Three USRA divisions spice up Saturday nights at Super Bee Speedway.

Matt Sheppard pocketed $20,000 for his Mods in the Marsh triumph.

Stewart Friesen kicked off the STSS weekend at Super Bee Speedway with a win.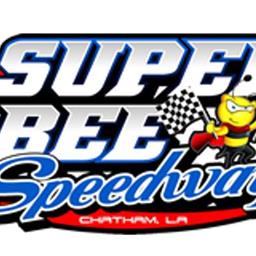 9/24/2022 - Super Bee Speedway
Chatham, LA
Last Points Race
Pits & Driver Registration open @ 4 p.m.
Spectator gate opens @ 5 p.m.
Draw closes @ 6 p.m.
MANDATORY Driver's meeting @ 6:30 p.m.
Hot Laps @ 7 p.m.
Pit Prices:
$35 ages 12 & up, $20 Kids ages 6-11, FREE 5 & under
General Admission:
$15 ages 12 & up, $5 Kids ages 6-11, FREE for 5 & under
CRUSA Crates

16 entries

USRA Factory Stock

15 entries

USRA Limiteds

13 entries

USRA Tuners

7 entries

Street Stocks

16 entries

Pro-Mods

16 entries
Full Event Information on MyRacePass
CRUSA Crates
Finish
Start
#
Competitor
Hometown
+/-
1
2
8
Tyler Owens Calhoun, LA
Calhoun, LA
1
2
5
21
Darin Patrick West Monroe, LA
West Monroe, LA
3
3
4
DP21
Dalton Patrick West Monroe, LA
West Monroe, LA
1
4
10
B89
Dakota Smith Tullos, LA
Tullos, LA
6
5
1
V8
Mark Underwood Jr Ruston, LA
Ruston, LA
-4
6
9
6
Peyton Spear Monroe, LA
Monroe, LA
3
7
15
56
Ray Goodman Bastrop, LA
Bastrop, LA
8
8
12
P79
Jason Page West Monroe, LA
West Monroe, LA
4
9
14
98
John Locke Elysian Fields, TX
Elysian Fields, TX
5
10 DNF
3
54G
Garrett Gibson Haughton, LA
Haughton, LA
-7
11 DNF
6
3
Seth Traweek West Monroe, LA
West Monroe, LA
-5
12 DNF
7
T49
Raymond Taylor Ball, LA
Ball, LA
-5
13 DNF
16
2
Carl Driskill Simsboror, LA
Simsboror, LA
3
14 DNF
13
91B
Jonathan Babin Pineville, LA
Pineville, LA
-1
15 DNF
8
15
Carlton Traweek West Monroe, LA
West Monroe, LA
-7
DNS
11
P52
Payton Brown Calhoun, LA
Calhoun, LA
-
Finish
Start
#
Competitor
Hometown
+/-
1
2
V8
Mark Underwood Jr Ruston, LA
Ruston, LA
1
2
8
54G
Garrett Gibson Haughton, LA
Haughton, LA
6
3
5
21
Darin Patrick West Monroe, LA
West Monroe, LA
2
4
1
T49
Raymond Taylor Ball, LA
Ball, LA
-3
5
7
6
Peyton Spear Monroe, LA
Monroe, LA
2
6
6
P52
Payton Brown Calhoun, LA
Calhoun, LA
-
7
4
91B
Jonathan Babin Pineville, LA
Pineville, LA
-3
8
3
56
Ray Goodman Bastrop, LA
Bastrop, LA
-5
All transfer
Finish
Start
#
Competitor
Hometown
+/-
1
1
8
Tyler Owens Calhoun, LA
Calhoun, LA
-
2
2
DP21
Dalton Patrick West Monroe, LA
West Monroe, LA
-
3
3
3
Seth Traweek West Monroe, LA
West Monroe, LA
-
4
4
15
Carlton Traweek West Monroe, LA
West Monroe, LA
-
5
5
B89
Dakota Smith Tullos, LA
Tullos, LA
-
6
6
P79
Jason Page West Monroe, LA
West Monroe, LA
-
7
8
98
John Locke Elysian Fields, TX
Elysian Fields, TX
1
8
7
2
Carl Driskill Simsboror, LA
Simsboror, LA
-1
All transfer
USRA Factory Stock
Finish
Start
#
Competitor
Hometown
+/-
1
5
9
John Parker Jr Dry Prong, LA
Dry Prong, LA
4
2
1
37
Matthew Driskell Arcadia, LA
Arcadia, LA
-1
3
7
12
David Smith Ruston, LA
Ruston, LA
4
4
9
40
Jeff Lewis Haughton, LA
Haughton, LA
5
5
4
95
Hayden Beckham Quitman, LA
Quitman, LA
-1
6
6
09
Dawson Moore Bastrop, LA
Bastrop, LA
-
7
3
X
Jeremy Allen Simsboro, LA
Simsboro, LA
-4
8
11
5T
Dewayne Turner Jonesboro, LA
Jonesboro, LA
3
9
14
41
Austin Wright Eros, LA
Eros, LA
5
10 DNF
2
C28
Ben Merchant Ruston, LA
Ruston, LA
-8
11 DNF
13
XX
Tj Allen Saline, LA
Saline, LA
2
12 DNF
10
18
ERic McBride Jonesboro, LA
Jonesboro, LA
-2
13 DNF
8
0
Mike Lavespere
-5
14 DNF
12
93
Caleb Smith Chatham, LA
Chatham, LA
-2
15 DNF
15
75Z
Zack Pepper Jonesboro, LA
Jonesboro, LA
-
Finish
Start
#
Competitor
Hometown
+/-
1
1
37
Matthew Driskell Arcadia, LA
Arcadia, LA
-
2
3
X
Jeremy Allen Simsboro, LA
Simsboro, LA
1
3
7
9
John Parker Jr Dry Prong, LA
Dry Prong, LA
4
4
4
12
David Smith Ruston, LA
Ruston, LA
-
5
2
40
Jeff Lewis Haughton, LA
Haughton, LA
-3
6
5
5T
Dewayne Turner Jonesboro, LA
Jonesboro, LA
-1
7
8
XX
Tj Allen Saline, LA
Saline, LA
1
8
6
75Z
Zack Pepper Jonesboro, LA
Jonesboro, LA
-2
All transfer
Finish
Start
#
Competitor
Hometown
+/-
1
1
C28
Ben Merchant Ruston, LA
Ruston, LA
-
2
5
95
Hayden Beckham Quitman, LA
Quitman, LA
3
3
7
09
Dawson Moore Bastrop, LA
Bastrop, LA
4
4 DNF
2
0
Mike Lavespere
-2
5 DNF
4
18
ERic McBride Jonesboro, LA
Jonesboro, LA
-1
6 DNF
3
93
Caleb Smith Chatham, LA
Chatham, LA
-3
7 DNF
6
41
Austin Wright Eros, LA
Eros, LA
-1
All transfer
USRA Limiteds
Finish
Start
#
Competitor
Hometown
+/-
1
1
K9
Mark Underwood Jr Ruston, LA
Ruston, LA
-
2
2
12B
T.J. Bond Calhoun, LA
Calhoun, LA
-
3
4
11S
Neil Standifer Simpson, LA
Simpson, LA
1
4
3
A1
Heath Wilson Farmerville, LA
Farmerville, LA
-1
5
13
47CC
Conner Williams Sibley, LA
Sibley, LA
8
6
8
19
Ronny Freeland Bastrop, LA
Bastrop, LA
2
7
9
12
Will Owens Calhoun, LA
Calhoun, LA
2
8
5
91
Chris Freeland Bastrop, LA
Bastrop, LA
-3
9
12
9C
Christopher Freeland Bastrop, LA
Bastrop, LA
3
10
10
R18
Ronnie King Ruston, LA
Ruston, LA
-
11
7
00
Brian Doles
-4
12
11
5X
Andrew Cox West Monroe, LA
West Monroe, LA
-1
13 DNF
6
6S
Dylan Merrell Dry Prong, LA
Dry Prong, LA
-7
Finish
Start
#
Competitor
Hometown
+/-
1
1
K9
Mark Underwood Jr Ruston, LA
Ruston, LA
-
2
4
A1
Heath Wilson Farmerville, LA
Farmerville, LA
2
3
5
91
Chris Freeland Bastrop, LA
Bastrop, LA
2
4
6
00
Brian Doles
2
5
7
12
Will Owens Calhoun, LA
Calhoun, LA
2
6
3
5X
Andrew Cox West Monroe, LA
West Monroe, LA
-3
DNS
2
47CC
Conner Williams Sibley, LA
Sibley, LA
-
All transfer
Finish
Start
#
Competitor
Hometown
+/-
1
2
12B
T.J. Bond Calhoun, LA
Calhoun, LA
1
2
4
11S
Neil Standifer Simpson, LA
Simpson, LA
2
3
1
6S
Dylan Merrell Dry Prong, LA
Dry Prong, LA
-2
4
6
19
Ronny Freeland Bastrop, LA
Bastrop, LA
2
5
3
R18
Ronnie King Ruston, LA
Ruston, LA
-2
6
5
9C
Christopher Freeland Bastrop, LA
Bastrop, LA
-1
All transfer
USRA Tuners
Finish
Start
#
Competitor
Hometown
+/-
1
2
K1
Kobe Kulp Eros, LA
Eros, LA
1
2
1
18S
Billy Smith West Monroe, LA
West Monroe, LA
-1
3
3
35
Shane Lowery Jonesboro, LA
Jonesboro, LA
-
4
5
C4
Ava Cannady Hodge, LA
Hodge, LA
1
5
4
20
Justin Frith
-1
6
7
36J
Josie Irvin Chatham, LA
Chatham, LA
1
7 DNF
6
B1
Braxton Beckham Quitman, LA
Quitman, LA
-1
Finish
Start
#
Competitor
Hometown
+/-
1
1
18S
Billy Smith West Monroe, LA
West Monroe, LA
-
2
2
K1
Kobe Kulp Eros, LA
Eros, LA
-
3
5
35
Shane Lowery Jonesboro, LA
Jonesboro, LA
2
4
3
20
Justin Frith
-1
5
7
C4
Ava Cannady Hodge, LA
Hodge, LA
2
6
4
B1
Braxton Beckham Quitman, LA
Quitman, LA
-2
7
6
36J
Josie Irvin Chatham, LA
Chatham, LA
-1
All transfer
Street Stocks
Finish
Start
#
Competitor
Hometown
+/-
1
6
FLY0
Justin Cook Sterlington, LA
Sterlington, LA
5
2
1
10M
Kale Murphrey Tullos, LA
Tullos, LA
-1
3
8
B8
PATRICK CRAWFORD Calhoun, LA
Calhoun, LA
5
4
2
M9
Jason Bennett Farmerville, LA
Farmerville, LA
-2
5
10
25
Parker Cloud Elizabeth, LA
Elizabeth, LA
5
6
7
40R
Chucky Robertson Jonesboro, LA
Jonesboro, LA
1
7
12
03B
Ian Blackwell
5
8
11
01
Lonnie Johnson Dry Prong, LA
Dry Prong, LA
3
9
13
W8
Willie Neal Winnfield, LA
Winnfield, LA
4
10
16
ZR8
Zoie Whittington Ruston, LA
Ruston, LA
6
11
14
P75
STEPHANIE PAGE West Monroe, LA
West Monroe, LA
3
12
4
5H
Crystal Day Eros, LA
Eros, LA
-8
13 DNF
15
C55
Caden Price Sicily Island, LA
Sicily Island, LA
2
14 DNF
9
X3
Bubba Gowan Monroe, LA
Monroe, LA
-5
15 DNF
3
49F
Brady Fortenberry Eros, LA
Eros, LA
-12
DQ
5
2X
Draven Laszlo Grayson, LA
Grayson, LA
-
Finish
Start
#
Competitor
Hometown
+/-
1
5
10M
Kale Murphrey Tullos, LA
Tullos, LA
4
2
3
49F
Brady Fortenberry Eros, LA
Eros, LA
1
3
7
2X
Draven Laszlo Grayson, LA
Grayson, LA
4
4
4
40R
Chucky Robertson Jonesboro, LA
Jonesboro, LA
-
5
1
X3
Bubba Gowan Monroe, LA
Monroe, LA
-4
6
8
01
Lonnie Johnson Dry Prong, LA
Dry Prong, LA
2
7
2
W8
Willie Neal Winnfield, LA
Winnfield, LA
-5
8
6
C55
Caden Price Sicily Island, LA
Sicily Island, LA
-2
All transfer
Finish
Start
#
Competitor
Hometown
+/-
1
2
M9
Jason Bennett Farmerville, LA
Farmerville, LA
1
2
3
5H
Crystal Day Eros, LA
Eros, LA
1
3
7
FLY0
Justin Cook Sterlington, LA
Sterlington, LA
4
4
4
B8
PATRICK CRAWFORD Calhoun, LA
Calhoun, LA
-
5
8
25
Parker Cloud Elizabeth, LA
Elizabeth, LA
3
6
1
03B
Ian Blackwell
-5
7
6
P75
STEPHANIE PAGE West Monroe, LA
West Monroe, LA
-1
8
5
ZR8
Zoie Whittington Ruston, LA
Ruston, LA
-3
All transfer
Pro-Mods
Finish
Start
#
Competitor
Hometown
+/-
1
2
4
Devin Richards
1
2
5
L8
Chase Hatton De Berry, TX
De Berry, TX
3
3
3
T11
Jacob Twomey Carthage, TX
Carthage, TX
-
4
4
B99
William Brooks Carthage, TX
Carthage, TX
-
5
8
18H
Dakota Hart WINNSBORO, LA
WINNSBORO, LA
3
6
12
R3
Rusty Neff Ruston, LA
Ruston, LA
6
7
11
J316
Kason Potter Bastrop, LA
Bastrop, LA
4
8
13
24
Chance Hatton De Berry, TX
De Berry, TX
5
9 DNF
9
75
Dusty Wilhite
-
10 DNF
1
10X
Jeremy Allen Simsboro, LA
Simsboro, LA
-9
11 DNF
10
6
Bear Multhaupt Shreveport, LA
Shreveport, LA
-1
12 DNF
6
84
Dakota Tutt Carthage, TX
Carthage, TX
-6
13 DNF
7
57
Michael Rawls WINNSBORO, LA
WINNSBORO, LA
-6
14 DNF
14
81
Matt Deville Ruston, LA
Ruston, LA
-
DNS
15
87
Julie Whitney Vivian, LA
Vivian, LA
-
DNS
16
57W
Danny Wilhite Calhoun, LA
Calhoun, LA
-
Finish
Start
#
Competitor
Hometown
+/-
1
6
10X
Jeremy Allen Simsboro, LA
Simsboro, LA
5
2
7
T11
Jacob Twomey Carthage, TX
Carthage, TX
5
3
4
L8
Chase Hatton De Berry, TX
De Berry, TX
1
4
8
57
Michael Rawls WINNSBORO, LA
WINNSBORO, LA
4
5
5
75
Dusty Wilhite
-
6
2
J316
Kason Potter Bastrop, LA
Bastrop, LA
-4
7
3
24
Chance Hatton De Berry, TX
De Berry, TX
-4
8 DNF
1
87
Julie Whitney Vivian, LA
Vivian, LA
-7
All transfer
Finish
Start
#
Competitor
Hometown
+/-
1
6
4
Devin Richards
5
2
8
B99
William Brooks Carthage, TX
Carthage, TX
6
3
1
84
Dakota Tutt Carthage, TX
Carthage, TX
-2
4
7
18H
Dakota Hart WINNSBORO, LA
WINNSBORO, LA
3
5
5
6
Bear Multhaupt Shreveport, LA
Shreveport, LA
-
6
2
R3
Rusty Neff Ruston, LA
Ruston, LA
-4
7
4
81
Matt Deville Ruston, LA
Ruston, LA
-3
8 DNF
3
57W
Danny Wilhite Calhoun, LA
Calhoun, LA
-5
All transfer