Three USRA divisions spice up Saturday nights at Super Bee Speedway.

Matt Sheppard pocketed $20,000 for his Mods in the Marsh triumph.

Stewart Friesen kicked off the STSS weekend at Super Bee Speedway with a win.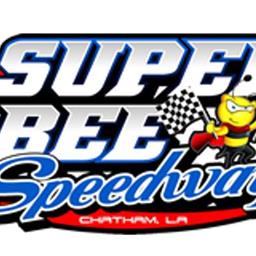 5/7/2022 - Super Bee Speedway
Chatham, LA
Weekly Racing, Mother's Day Special, & Dolla Dogs
Come celebrate your favorite Mom with us! Grab a dollar hot dog & watch some fast action quarter mile racing!
CRUSA Crates

18 entries

USRA Factory Stock

17 entries

USRA Limiteds

17 entries

USRA Tuners

16 entries

Street Stocks

17 entries

Pro-Mods

8 entries
Full Event Information on MyRacePass
CRUSA Crates
Finish
Start
#
Competitor
Hometown
+/-
1
4
B17
Brandon Ball Texarkana, TX
Texarkana, TX
3
2
8
DP21
Dalton Patrick West Monroe, LA
West Monroe, LA
6
3
3
P52
Payton Brown Calhoun, LA
Calhoun, LA
-
4
2
3
Seth Traweek West Monroe, LA
West Monroe, LA
-2
5
6
00
James Shirley West Monroe, LA
West Monroe, LA
1
6
7
6
Peyton Spear Monroe, LA
Monroe, LA
1
7
11
39
Jim Spurlock Arcadia, LA
Arcadia, LA
4
8
9
15T
Carlton Traweek West Monroe, LA
West Monroe, LA
1
9 DNF
10
B89
Dakota Smith Tullos, LA
Tullos, LA
1
10 DNF
14
2
Matthew Driskell Arcadia, LA
Arcadia, LA
4
11 DNF
13
1S
Jamie Shirley West Monroe, LA
West Monroe, LA
2
12 DNF
5
15
Clayton Stuckey Shreveport, LA
Shreveport, LA
-7
13 DNF
12
12
David Smith Jr Ruston, LA
Ruston, LA
-1
14 DNF
15
56
Ray Goodman Bastrop, LA
Bastrop, LA
1
DNS
16
M24
Jeffery Mosley West Monroe, LA
West Monroe, LA
-
DNS
17
15G
Geoff Lary Minden, LA
Minden, LA
-
DNS
18
51
Tyler Burnett Eros, LA
Eros, LA
-
DQ
1
78
Wyatt Wilkerson Sweet Lake, LA
Sweet Lake, LA
-
Finish
Start
#
Competitor
Hometown
+/-
1
1
78
Wyatt Wilkerson Sweet Lake, LA
Sweet Lake, LA
-
2
3
P52
Payton Brown Calhoun, LA
Calhoun, LA
1
3
2
15
Clayton Stuckey Shreveport, LA
Shreveport, LA
-1
4
4
6
Peyton Spear Monroe, LA
Monroe, LA
-
5
5
15T
Carlton Traweek West Monroe, LA
West Monroe, LA
-
6
6
39
Jim Spurlock Arcadia, LA
Arcadia, LA
-
7
9
1S
Jamie Shirley West Monroe, LA
West Monroe, LA
2
8
7
56
Ray Goodman Bastrop, LA
Bastrop, LA
-1
DNS
8
15G
Geoff Lary Minden, LA
Minden, LA
-
All transfer
Finish
Start
#
Competitor
Hometown
+/-
1
1
3
Seth Traweek West Monroe, LA
West Monroe, LA
-
2
3
B17
Brandon Ball Texarkana, TX
Texarkana, TX
1
3
5
00
James Shirley West Monroe, LA
West Monroe, LA
2
4
2
DP21
Dalton Patrick West Monroe, LA
West Monroe, LA
-2
5
4
B89
Dakota Smith Tullos, LA
Tullos, LA
-1
6
6
12
David Smith Jr Ruston, LA
Ruston, LA
-
7
7
2
Matthew Driskell Arcadia, LA
Arcadia, LA
-
8 DNF
9
M24
Jeffery Mosley West Monroe, LA
West Monroe, LA
1
DNS
8
51
Tyler Burnett Eros, LA
Eros, LA
-
All transfer
Finish
Start
#
Competitor
Hometown
Time
1
4
78
Wyatt Wilkerson Sweet Lake, LA
Sweet Lake, LA
2
16
3
Seth Traweek West Monroe, LA
West Monroe, LA
3
13
15
Clayton Stuckey Shreveport, LA
Shreveport, LA
4
9
DP21
Dalton Patrick West Monroe, LA
West Monroe, LA
5
1
P52
Payton Brown Calhoun, LA
Calhoun, LA
6
3
B17
Brandon Ball Texarkana, TX
Texarkana, TX
7
18
6
Peyton Spear Monroe, LA
Monroe, LA
8
12
B89
Dakota Smith Tullos, LA
Tullos, LA
9
15
15T
Carlton Traweek West Monroe, LA
West Monroe, LA
10
14
00
James Shirley West Monroe, LA
West Monroe, LA
11
2
39
Jim Spurlock Arcadia, LA
Arcadia, LA
12
8
12
David Smith Jr Ruston, LA
Ruston, LA
13
10
56
Ray Goodman Bastrop, LA
Bastrop, LA
14
7
2
Matthew Driskell Arcadia, LA
Arcadia, LA
DNS
5
15G
Geoff Lary Minden, LA
Minden, LA
DNS
11
51
Tyler Burnett Eros, LA
Eros, LA
DQ
6
1S
Jamie Shirley West Monroe, LA
West Monroe, LA
DQ
17
M24
Jeffery Mosley West Monroe, LA
West Monroe, LA
USRA Factory Stock
Finish
Start
#
Competitor
Hometown
+/-
1
2
247
Mike Hurst Ruston, LA
Ruston, LA
1
2
1
09
Dawson Moore Bastrop, LA
Bastrop, LA
-1
3
10
99X
David Cotten Olla, LA
Olla, LA
7
4
3
41
Austin Wright Eros, LA
Eros, LA
-1
5
5
93
Caleb Smith Chatham, LA
Chatham, LA
-
6
9
721
Matthew Lindsey Jonesboro, LA
Jonesboro, LA
3
7
12
5T
Dewayne Turner Jonesboro, LA
Jonesboro, LA
5
8 BF
4
26
Nathan Hatten Winnfield, LA
Winnfield, LA
-4
9 BF
6
00K
Kyle Shirley
-3
10 DNF
13
T10
Scott Bordelon Montgomery, LA
Montgomery, LA
3
11 DNF
7
0
Mike Lavespere
-4
12 DNF
11
C29
Keith Herring
-1
13 DNF
8
5X
Andrew Cox West Monroe, LA
West Monroe, LA
-5
14 DNF
15
X
Jeremy Allen Simsboro, LA
Simsboro, LA
1
DNS
14
L88
Logan Gordon W Monroe, LA
W Monroe, LA
-
DNS
16
E59
ERic McBride Jonesboro, LA
Jonesboro, LA
-
DNS
17
55
Dalton Smith Winsboro, LA
Winsboro, LA
-
Finish
Start
#
Competitor
Hometown
+/-
1
4
09
Dawson Moore Bastrop, LA
Bastrop, LA
3
2
1
41
Austin Wright Eros, LA
Eros, LA
-1
3
2
93
Caleb Smith Chatham, LA
Chatham, LA
-1
4
9
0
Mike Lavespere
5
5
5
721
Matthew Lindsey Jonesboro, LA
Jonesboro, LA
-
6
3
C29
Keith Herring
-3
7
8
T10
Scott Bordelon Montgomery, LA
Montgomery, LA
1
8 DNF
6
X
Jeremy Allen Simsboro, LA
Simsboro, LA
-2
DNS
7
55
Dalton Smith Winsboro, LA
Winsboro, LA
-
All transfer
Finish
Start
#
Competitor
Hometown
+/-
1
7
247
Mike Hurst Ruston, LA
Ruston, LA
6
2
4
26
Nathan Hatten Winnfield, LA
Winnfield, LA
2
3
6
00K
Kyle Shirley
3
4
1
5X
Andrew Cox West Monroe, LA
West Monroe, LA
-3
5
5
99X
David Cotten Olla, LA
Olla, LA
-
6
3
5T
Dewayne Turner Jonesboro, LA
Jonesboro, LA
-3
7
2
L88
Logan Gordon W Monroe, LA
W Monroe, LA
-5
8 DNF
8
E59
ERic McBride Jonesboro, LA
Jonesboro, LA
-
All transfer
USRA Limiteds
Finish
Start
#
Competitor
Hometown
+/-
1
3
17
Austin Storm
2
2
4
A1
Heath Wilson Farmerville, LA
Farmerville, LA
2
3
9
47
Randy Thompson
6
4
11
12B
T.J. Bond Calhoun, LA
Calhoun, LA
7
5
15
L17
Logan Griffin Texarkana, AR
Texarkana, AR
10
6
10
51
Cliff Burnett Eros, LA
Eros, LA
4
7
7
9C
Chris Freeland Bastrop, LA
Bastrop, LA
-
8
16
5J
Jacob Burch Dry Prong, LA
Dry Prong, LA
8
9
5
12
Will Owens Calhoun, LA
Calhoun, LA
-4
10
2
7S
Braden Stewart Collinston, LA
Collinston, LA
-8
11
12
00
Brian Doles
1
12
13
32
Nick Herzog
1
13
8
47CC
Conner Williams Sibley, LA
Sibley, LA
-5
14
14
28M
Mikey Merrell Jr Dry Prong, LA
Dry Prong, LA
-
15
1
K9
Mark Underwood Jr Ruston, LA
Ruston, LA
-14
16
6
6S
Dylan Merrell Dry Prong, LA
Dry Prong, LA
-10
17
17
21B
Brian Bell Castor, LA
Castor, LA
-
Finish
Start
#
Competitor
Hometown
+/-
1
7
K9
Mark Underwood Jr Ruston, LA
Ruston, LA
6
2
2
17
Austin Storm
-
3
4
12
Will Owens Calhoun, LA
Calhoun, LA
1
4
1
9C
Chris Freeland Bastrop, LA
Bastrop, LA
-3
5
5
47
Randy Thompson
-
6
8
12B
T.J. Bond Calhoun, LA
Calhoun, LA
2
7
9
32
Nick Herzog
2
8
3
L17
Logan Griffin Texarkana, AR
Texarkana, AR
-5
DNS
6
21B
Brian Bell Castor, LA
Castor, LA
-
All transfer
Finish
Start
#
Competitor
Hometown
+/-
1
1
7S
Braden Stewart Collinston, LA
Collinston, LA
-
2
3
A1
Heath Wilson Farmerville, LA
Farmerville, LA
1
3
4
6S
Dylan Merrell Dry Prong, LA
Dry Prong, LA
1
4
6
47CC
Conner Williams Sibley, LA
Sibley, LA
2
5
5
51
Cliff Burnett Eros, LA
Eros, LA
-
6
8
00
Brian Doles
2
7
7
28M
Mikey Merrell Jr Dry Prong, LA
Dry Prong, LA
-
8 DNF
2
5J
Jacob Burch Dry Prong, LA
Dry Prong, LA
-6
All transfer
USRA Tuners
Finish
Start
#
Competitor
Hometown
+/-
1
6
35
Shane Lowery Jonesboro, LA
Jonesboro, LA
5
2
7
36J
Josie Irvin Chatham, LA
Chatham, LA
5
3
12
57
Samantha Rawls WINNSBORO, LA
WINNSBORO, LA
9
4
10
H95
Dee Harris Choudrant, LA
Choudrant, LA
6
5 DNF
9
17
Dustin Trim West Monroe, LA
West Monroe, LA
4
6 DNF
11
K2
Kaylee Hartegan Choudrant, LA
Choudrant, LA
5
7 DNF
13
NH1
Alyssa Moffett Hodge, LA
Hodge, LA
6
8 DNF
3
442
Taylor Thomas West Monroe, LA
West Monroe, LA
-5
9 DNF
8
C4
Ava Cannady Hodge, LA
Hodge, LA
-1
10 DNF
2
20
Justin Frith
-8
11 DNF
4
18
Chris Canterberry West Monroe, LA
West Monroe, LA
-7
12 DNF
16
21
Brenna Liles Bienville, LA
Bienville, LA
4
13 DNF
5
18S
Billy Smith West Monroe, LA
West Monroe, LA
-8
DNS
14
00
Avery Neal Smackover, AR
Smackover, AR
-
DQ
1
K1
Kobe Kulp Eros, LA
Eros, LA
-
DQ
15
15S
Michael Ward WINNSBORO, LA
WINNSBORO, LA
-
Finish
Start
#
Competitor
Hometown
+/-
1
2
K1
Kobe Kulp Eros, LA
Eros, LA
1
2
4
442
Taylor Thomas West Monroe, LA
West Monroe, LA
2
3
8
18S
Billy Smith West Monroe, LA
West Monroe, LA
5
4
1
36J
Josie Irvin Chatham, LA
Chatham, LA
-3
5
3
17
Dustin Trim West Monroe, LA
West Monroe, LA
-2
6
5
K2
Kaylee Hartegan Choudrant, LA
Choudrant, LA
-1
7
6
NH1
Alyssa Moffett Hodge, LA
Hodge, LA
-1
8 DNF
7
15S
Michael Ward WINNSBORO, LA
WINNSBORO, LA
-1
All transfer
Finish
Start
#
Competitor
Hometown
+/-
1
1
20
Justin Frith
-
2
2
18
Chris Canterberry West Monroe, LA
West Monroe, LA
-
3
3
35
Shane Lowery Jonesboro, LA
Jonesboro, LA
-
4
7
C4
Ava Cannady Hodge, LA
Hodge, LA
3
5
5
H95
Dee Harris Choudrant, LA
Choudrant, LA
-
6
6
57
Samantha Rawls WINNSBORO, LA
WINNSBORO, LA
-
7
8
00
Avery Neal Smackover, AR
Smackover, AR
1
8
4
21
Brenna Liles Bienville, LA
Bienville, LA
-4
All transfer
Street Stocks
Finish
Start
#
Competitor
Hometown
+/-
1
4
K1
Dewayne Estes Sturgis, MS
Sturgis, MS
3
2
8
98
Clint Mashburn Crossett, AR
Crossett, AR
6
3
1
25
Parker Cloud Elizabeth, LA
Elizabeth, LA
-2
4
7
2X
Draven Laszlo Grayson, LA
Grayson, LA
3
5
10
5H
Crystal Day Eros, LA
Eros, LA
5
6
11
40R
Chucky Robertson Jonesboro, LA
Jonesboro, LA
5
7
12
P75
STEPHANIE PAGE West Monroe, LA
West Monroe, LA
5
8
5
X3
Bubba Gowan Monroe, LA
Monroe, LA
-3
9
16
W8
Willie Neal Winnfield, LA
Winnfield, LA
7
10
15
28A
Tj Allen Saline, LA
Saline, LA
5
11 DNF
14
ZR8
Zoie Whittington Ruston, LA
Ruston, LA
3
12 DNF
13
6
Stephen Liles Bienville, LA
Bienville, LA
1
13 DNF
17
03B
Ian Blackwell
4
14 DNF
3
74X
Matt Stacey
-11
15 DNF
6
B8
PATRICK CRAWFORD Calhoun, LA
Calhoun, LA
-9
DNS
9
C55
Caden Price Sicily Island, LA
Sicily Island, LA
-
DQ
2
V8
Mark Underwood Jr Ruston, LA
Ruston, LA
-
Finish
Start
#
Competitor
Hometown
+/-
1
3
25
Parker Cloud Elizabeth, LA
Elizabeth, LA
2
2
1
74X
Matt Stacey
-1
3
6
X3
Bubba Gowan Monroe, LA
Monroe, LA
3
4
2
2X
Draven Laszlo Grayson, LA
Grayson, LA
-2
5
9
C55
Caden Price Sicily Island, LA
Sicily Island, LA
4
6
4
40R
Chucky Robertson Jonesboro, LA
Jonesboro, LA
-2
7
7
6
Stephen Liles Bienville, LA
Bienville, LA
-
8 DNF
5
28A
Tj Allen Saline, LA
Saline, LA
-3
9 DNF
8
03B
Ian Blackwell
-1
All transfer
Finish
Start
#
Competitor
Hometown
+/-
1
4
V8
Mark Underwood Jr Ruston, LA
Ruston, LA
3
2
6
K1
Dewayne Estes Sturgis, MS
Sturgis, MS
4
3
2
B8
PATRICK CRAWFORD Calhoun, LA
Calhoun, LA
-1
4
7
98
Clint Mashburn Crossett, AR
Crossett, AR
3
5
5
5H
Crystal Day Eros, LA
Eros, LA
-
6
1
P75
STEPHANIE PAGE West Monroe, LA
West Monroe, LA
-5
7
3
ZR8
Zoie Whittington Ruston, LA
Ruston, LA
-4
8
8
W8
Willie Neal Winnfield, LA
Winnfield, LA
-
All transfer
Pro-Mods
Finish
Start
#
Competitor
Hometown
+/-
1
1
4
Devin Richards
-
2
6
X
Jeremy Allen Simsboro, LA
Simsboro, LA
4
3
4
57
Michael Rawls WINNSBORO, LA
WINNSBORO, LA
1
4 DNF
7
75
Dusty Wilhite
3
5 DNF
5
7S
Blaine Stewart Collinston, LA
Collinston, LA
-
6 DNF
2
360
Justin Cook Monroe, LA
Monroe, LA
-4
7 DNF
8
J316
Kason Potter Bastrop, LA
Bastrop, LA
1
8 DNF
3
R3
Rusty Neff Ruston, LA
Ruston, LA
-5
Finish
Start
#
Competitor
Hometown
+/-
1
2
4
Devin Richards
1
2
7
360
Justin Cook Monroe, LA
Monroe, LA
5
3
3
R3
Rusty Neff Ruston, LA
Ruston, LA
-
4
4
57
Michael Rawls WINNSBORO, LA
WINNSBORO, LA
-
5
1
7S
Blaine Stewart Collinston, LA
Collinston, LA
-4
6 DNF
8
X
Jeremy Allen Simsboro, LA
Simsboro, LA
2
7 DNF
6
75
Dusty Wilhite
-1
8 DNF
5
J316
Kason Potter Bastrop, LA
Bastrop, LA
-3
All transfer