Three USRA divisions spice up Saturday nights at Super Bee Speedway.

Matt Sheppard pocketed $20,000 for his Mods in the Marsh triumph.

Stewart Friesen kicked off the STSS weekend at Super Bee Speedway with a win.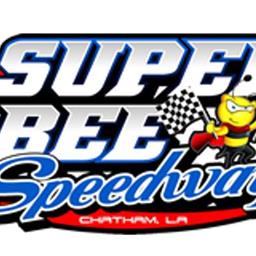 5/28/2022 - Super Bee Speedway
Chatham, LA
STSS Cajun Region
STSS Cajun Region & Weekly Racing. We are not running Factory stock this night in respect of Battle on the Bend at Sabine.
Pits & Driver Registration open @ 3 p.m.
Spectator gate opens @ 4 p.m.
Draw closes @ 5:30 p.m.
MANDATORY Driver's meeting @ 6 p.m.
Hot Laps @ 6:30 p.m.
Pit Prices:
$35 ages 12 & up, $20 Kids ages 6-11, FREE 5 & under
General Admission:
$15 ages 12 & up, $5 Heroes (with ID or Badge ONLY), $5 Kids ages 6-11, FREE for 5 & under
ECS Smoke School Street Stocks

18 entries

Dubach Air & Heat USRA Tuners

15 entries

Braadley Industrial Pro-Mods

9 entries

Amark Metals & Bulletproof Tees CRUSA Crates

11 entries

Ark-La-Tex Shop Builders USRA Limiteds

13 entries
Full Event Information on MyRacePass
ECS Smoke School Street Stocks
Finish
Start
#
Competitor
Hometown
+/-
1
1
FLYIN0
Justin Cook Sterlington, LA
Sterlington, LA
-
2
3
98
Clint Mashburn Crossett, AR
Crossett, AR
1
3
2
5H
Crystal Day Eros, LA
Eros, LA
-1
4
8
13
PATRICK CRAWFORD Calhoun, LA
Calhoun, LA
4
5
6
40R
Chucky Robertson Jonesboro, LA
Jonesboro, LA
1
6
9
P75
STEPHANIE PAGE West Monroe, LA
West Monroe, LA
3
7
11
X3
Bubba Gowan Monroe, LA
Monroe, LA
4
8
10
50
Greg Cox West Monroe, LA
West Monroe, LA
2
9
12
28A
Tj Allen Saline, LA
Saline, LA
3
10
7
2XXX
Steven Laszlo Grayson, LA
Grayson, LA
-3
11
14
ZR8
Zoie Whittington Ruston, LA
Ruston, LA
3
12
16
C55
Caden Price Sicily Island, LA
Sicily Island, LA
4
13 DNF
4
24C
Bobby Chandler Dry Prong, LA
Dry Prong, LA
-9
14 DNF
5
2X
Draven Laszlo Grayson, LA
Grayson, LA
-9
15 DNF
13
2
Tommy Herrington
-2
16 DNF
15
59
ERic McBride Jonesboro, LA
Jonesboro, LA
-1
17 DNF
17
V8
Mark Underwood Jr Ruston, LA
Ruston, LA
-
DNS
18
01
Lonnie Johnson Dry Prong, LA
Dry Prong, LA
-
Finish
Start
#
Competitor
Hometown
+/-
1
2
FLYIN0
Justin Cook Sterlington, LA
Sterlington, LA
1
2
3
98
Clint Mashburn Crossett, AR
Crossett, AR
1
3
5
2X
Draven Laszlo Grayson, LA
Grayson, LA
2
4
7
2XXX
Steven Laszlo Grayson, LA
Grayson, LA
3
5
6
P75
STEPHANIE PAGE West Monroe, LA
West Monroe, LA
1
6
1
X3
Bubba Gowan Monroe, LA
Monroe, LA
-5
7 DNF
8
2
Tommy Herrington
1
8 DNF
4
59
ERic McBride Jonesboro, LA
Jonesboro, LA
-4
9 DNF
9
V8
Mark Underwood Jr Ruston, LA
Ruston, LA
-
All transfer
Finish
Start
#
Competitor
Hometown
+/-
1
1
5H
Crystal Day Eros, LA
Eros, LA
-
2
4
24C
Bobby Chandler Dry Prong, LA
Dry Prong, LA
2
3
7
40R
Chucky Robertson Jonesboro, LA
Jonesboro, LA
4
4
8
13
PATRICK CRAWFORD Calhoun, LA
Calhoun, LA
4
5
2
50
Greg Cox West Monroe, LA
West Monroe, LA
-3
6
5
28A
Tj Allen Saline, LA
Saline, LA
-1
7
6
ZR8
Zoie Whittington Ruston, LA
Ruston, LA
-1
8
3
C55
Caden Price Sicily Island, LA
Sicily Island, LA
-5
DNS
9
01
Lonnie Johnson Dry Prong, LA
Dry Prong, LA
-
All transfer
Dubach Air & Heat USRA Tuners
Finish
Start
#
Competitor
Hometown
+/-
1
4
35
Shane Lowery Jonesboro, LA
Jonesboro, LA
3
2
1
K1
Kobe Kulp Eros, LA
Eros, LA
-1
3
10
H95
Dee Harris Choudrant, LA
Choudrant, LA
7
4
8
15S
Michael Ward WINNSBORO, LA
WINNSBORO, LA
4
5
15
36J
Josie Irvin Chatham, LA
Chatham, LA
10
6
7
00
Avery Neal Smackover, AR
Smackover, AR
1
7
5
18
Chris Canterberry West Monroe, LA
West Monroe, LA
-2
8 BF
11
25
Cade Badiali Benton, LA
Benton, LA
3
9 DNF
3
20
Justin Frith
-6
10 DNF
9
442
Taylor Thomas West Monroe, LA
West Monroe, LA
-1
11 DNF
12
7
Brooke Moffett Hodge, LA
Hodge, LA
1
12 DNF
6
C4
Ava Cannady Hodge, LA
Hodge, LA
-6
13 DNF
13
K2
Kaylee Hartegan Choudrant, LA
Choudrant, LA
-
14 DNF
14
C1
Tyler Colvin West Monroe, LA
West Monroe, LA
-
15 DNF
2
18S
Billy Smith West Monroe, LA
West Monroe, LA
-13
Finish
Start
#
Competitor
Hometown
+/-
1
3
K1
Kobe Kulp Eros, LA
Eros, LA
2
2
6
20
Justin Frith
4
3
4
18
Chris Canterberry West Monroe, LA
West Monroe, LA
1
4
1
00
Avery Neal Smackover, AR
Smackover, AR
-3
5
7
442
Taylor Thomas West Monroe, LA
West Monroe, LA
2
6
5
25
Cade Badiali Benton, LA
Benton, LA
-1
7 DNF
8
K2
Kaylee Hartegan Choudrant, LA
Choudrant, LA
1
8 DNF
2
36J
Josie Irvin Chatham, LA
Chatham, LA
-6
All transfer
Finish
Start
#
Competitor
Hometown
+/-
1
2
18S
Billy Smith West Monroe, LA
West Monroe, LA
1
2
1
35
Shane Lowery Jonesboro, LA
Jonesboro, LA
-1
3
6
C4
Ava Cannady Hodge, LA
Hodge, LA
3
4
5
15S
Michael Ward WINNSBORO, LA
WINNSBORO, LA
1
5
7
H95
Dee Harris Choudrant, LA
Choudrant, LA
2
6
3
7
Brooke Moffett Hodge, LA
Hodge, LA
-3
DNS
4
C1
Tyler Colvin West Monroe, LA
West Monroe, LA
-
All transfer
Braadley Industrial Pro-Mods
Finish
Start
#
Competitor
Hometown
+/-
1
2
4
Devin Richards
1
2
3
10X
Jeremy Allen Simsboro, LA
Simsboro, LA
1
3
1
75
Kevin McCoy
-2
4
5
87
Julie Whitney Vivian, LA
Vivian, LA
1
5
7
3J
Hunter Jones Simsboro, LA
Simsboro, LA
2
6
4
R3
Rusty Neff Ruston, LA
Ruston, LA
-2
7
9
50
Keith Herring
2
8 DNF
8
J316
Kason Potter Bastrop, LA
Bastrop, LA
-
9 DNF
6
7S
Blaine Stewart Collinston, LA
Collinston, LA
-3
Finish
Start
#
Competitor
Hometown
+/-
1
2
75
Kevin McCoy
1
2
7
4
Devin Richards
5
3
8
10X
Jeremy Allen Simsboro, LA
Simsboro, LA
5
4
4
R3
Rusty Neff Ruston, LA
Ruston, LA
-
5
6
87
Julie Whitney Vivian, LA
Vivian, LA
1
6
3
7S
Blaine Stewart Collinston, LA
Collinston, LA
-3
7 DNF
1
3J
Hunter Jones Simsboro, LA
Simsboro, LA
-6
8 DNF
5
J316
Kason Potter Bastrop, LA
Bastrop, LA
-3
DNS
9
50
Keith Herring
-
All transfer
Amark Metals & Bulletproof Tees CRUSA Crates
Finish
Start
#
Competitor
Hometown
+/-
1
1
27
Chase Delrio West Monroe, LA
West Monroe, LA
-
2
2
P52
PAYTON BROWN Calhoun, LA
Calhoun, LA
-
3
4
6
Peyton Spear Monroe, LA
Monroe, LA
1
4
7
DP21
Dalton Patrick West Monroe, LA
West Monroe, LA
3
5
6
15
Carlton Traweek West Monroe, LA
West Monroe, LA
1
6
10
8R
Jodey Reep Eldorado, AR
Eldorado, AR
4
7 DNF
8
7
Lance Carroll Bastrop, LA
Bastrop, LA
1
8 DNF
11
M24
Jeffery Mosley West Monroe, LA
West Monroe, LA
3
9 DNF
3
21
Darin Patrick West Monroe, LA
West Monroe, LA
-6
10 DNF
9
56
Ray Goodman Bastrop, LA
Bastrop, LA
-1
11 DNF
5
28C
Colton Guin
-6
Finish
Start
#
Competitor
Hometown
+/-
1
1
27
Chase Delrio West Monroe, LA
West Monroe, LA
-
2
5
21
Darin Patrick West Monroe, LA
West Monroe, LA
3
3 DNF
4
28C
Colton Guin
1
4 DNF
6
DP21
Dalton Patrick West Monroe, LA
West Monroe, LA
2
5 DNF
2
56
Ray Goodman Bastrop, LA
Bastrop, LA
-3
6 DNF
3
M24
Jeffery Mosley West Monroe, LA
West Monroe, LA
-3
All transfer
Finish
Start
#
Competitor
Hometown
+/-
1
2
P52
PAYTON BROWN Calhoun, LA
Calhoun, LA
1
2
1
6
Peyton Spear Monroe, LA
Monroe, LA
-1
3
3
15
Carlton Traweek West Monroe, LA
West Monroe, LA
-
4
5
7
Lance Carroll Bastrop, LA
Bastrop, LA
1
5
4
8R
Jodey Reep Eldorado, AR
Eldorado, AR
-1
All transfer
Ark-La-Tex Shop Builders USRA Limiteds
Finish
Start
#
Competitor
Hometown
+/-
1
2
14JR
Michael King Jr El Dorado, AR
El Dorado, AR
1
2
3
12B
T.J. Bond Calhoun, LA
Calhoun, LA
1
3
1
K9
Mark Underwood Jr Ruston, LA
Ruston, LA
-2
4
5
47
Randy Thompson
1
5
7
51
Tyler Burnett Eros, LA
Eros, LA
2
6
6
12
Will Owens
-
7
4
4
Timothy Holt Rodessa, LA
Rodessa, LA
-3
8
11
23
Coty Tupper Blanchard, LA
Blanchard, LA
3
9
8
00
Brian Doles
-1
10
12
R18
Ronnie King Ruston, LA
Ruston, LA
2
11
9
10F
Brady Fortenberry Eros, LA
Eros, LA
-2
12 DNF
10
OB
Hayden Beckham Quitman, LA
Quitman, LA
-2
DNS
13
9C
Chris Freeland Bastrop, LA
Bastrop, LA
-
Finish
Start
#
Competitor
Hometown
+/-
1
3
K9
Mark Underwood Jr Ruston, LA
Ruston, LA
2
2
7
12B
T.J. Bond Calhoun, LA
Calhoun, LA
5
3
2
47
Randy Thompson
-1
4
6
51
Tyler Burnett Eros, LA
Eros, LA
2
5
5
10F
Brady Fortenberry Eros, LA
Eros, LA
-
6 DNF
4
23
Coty Tupper Blanchard, LA
Blanchard, LA
-2
DNS
1
9C
Chris Freeland Bastrop, LA
Bastrop, LA
-
All transfer