Three USRA divisions spice up Saturday nights at Super Bee Speedway.

Matt Sheppard pocketed $20,000 for his Mods in the Marsh triumph.

Stewart Friesen kicked off the STSS weekend at Super Bee Speedway with a win.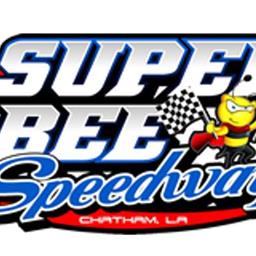 7/16/2022 - Super Bee Speedway
Chatham, LA
ASCS Elite Non-Wing, Fan Appreciation, & Dolla Dogs!
Pits & Driver Registration open @ 4 p.m.
Spectator gate opens @ 5 p.m.
Draw closes @ 6:30 p.m.
MANDATORY Driver's meeting @ 7 p.m.
Hot Laps @ 7:30 p.m.
Pit Prices:
$40 ages 12 & up, $20 Kids ages 6-11, FREE 5 & under
General Admission:
$10 ages 12 & up, $5 Kids ages 6-11, FREE for 5 & under
CRUSA Crates

14 entries

USRA Factory Stock

17 entries

USRA Limiteds

17 entries

USRA Tuners

12 entries

Street Stocks

15 entries

Pro-Mods

14 entries
Full Event Information on MyRacePass
CRUSA Crates
Finish
Start
#
Competitor
Hometown
+/-
1
2
27
Chase Delrio West Monroe, LA
West Monroe, LA
1
2
1
P52
Payton Brown Calhoun, LA
Calhoun, LA
-1
3
3
57
Chad Dupont Bossier, LA
Bossier, LA
-
4
5
57A
Austin Dupont Bossier, LA
Bossier, LA
1
5
4
21
Darin Patrick West Monroe, LA
West Monroe, LA
-1
6
10
8
Tyler Owens Calhoun, LA
Calhoun, LA
4
7
9
B89
Dakota Smith Tullos, LA
Tullos, LA
2
8
13
00
James Shirley West Monroe, LA
West Monroe, LA
5
9
11
6
Peyton Spear Monroe, LA
Monroe, LA
2
10
12
3
Seth Traweek West Monroe, LA
West Monroe, LA
2
11
14
DP21
Dalton Patrick West Monroe, LA
West Monroe, LA
3
12 DNF
7
JT3
Jamie Traweek West Monroe, LA
West Monroe, LA
-5
13 DNF
6
51
Tyler Burnett Eros, LA
Eros, LA
-7
14 DNF
8
15
Carlton Traweek West Monroe, LA
West Monroe, LA
-6
Finish
Start
#
Competitor
Hometown
+/-
1
1
P52
Payton Brown Calhoun, LA
Calhoun, LA
-
2
3
57
Chad Dupont Bossier, LA
Bossier, LA
1
3
6
57A
Austin Dupont Bossier, LA
Bossier, LA
3
4
2
JT3
Jamie Traweek West Monroe, LA
West Monroe, LA
-2
5
4
B89
Dakota Smith Tullos, LA
Tullos, LA
-1
6
5
6
Peyton Spear Monroe, LA
Monroe, LA
-1
7
7
00
James Shirley West Monroe, LA
West Monroe, LA
-
All transfer
Finish
Start
#
Competitor
Hometown
+/-
1
1
27
Chase Delrio West Monroe, LA
West Monroe, LA
-
2
3
21
Darin Patrick West Monroe, LA
West Monroe, LA
1
3
2
51
Tyler Burnett Eros, LA
Eros, LA
-1
4
6
15
Carlton Traweek West Monroe, LA
West Monroe, LA
2
5
7
8
Tyler Owens Calhoun, LA
Calhoun, LA
2
6
5
3
Seth Traweek West Monroe, LA
West Monroe, LA
-1
7 DNF
4
DP21
Dalton Patrick West Monroe, LA
West Monroe, LA
-3
All transfer
Finish
Start
#
Competitor
Hometown
Time
1
2
P52
Payton Brown Calhoun, LA
Calhoun, LA
2
8
27
Chase Delrio West Monroe, LA
West Monroe, LA
3
9
JT3
Jamie Traweek West Monroe, LA
West Monroe, LA
4
14
51
Tyler Burnett Eros, LA
Eros, LA
5
4
57
Chad Dupont Bossier, LA
Bossier, LA
6
11
21
Darin Patrick West Monroe, LA
West Monroe, LA
7
3
B89
Dakota Smith Tullos, LA
Tullos, LA
8
5
DP21
Dalton Patrick West Monroe, LA
West Monroe, LA
9
1
6
Peyton Spear Monroe, LA
Monroe, LA
10
6
3
Seth Traweek West Monroe, LA
West Monroe, LA
11
7
57A
Austin Dupont Bossier, LA
Bossier, LA
12
13
15
Carlton Traweek West Monroe, LA
West Monroe, LA
13
12
00
James Shirley West Monroe, LA
West Monroe, LA
14
10
8
Tyler Owens Calhoun, LA
Calhoun, LA
USRA Factory Stock
Finish
Start
#
Competitor
Hometown
+/-
1
3
99X
David Cotten Olla, LA
Olla, LA
2
2
7
X
Jeremy Allen Simsboro, LA
Simsboro, LA
5
3
6
C28
Ben Merchant Ruston, LA
Ruston, LA
3
4
8
5X
Andrew Cox West Monroe, LA
West Monroe, LA
4
5
13
14J
Lee Johnson
8
6
5
41
Austin Wright Eros, LA
Eros, LA
-1
7
11
93
Caleb Smith Chatham, LA
Chatham, LA
4
8 DNF
4
18T
Todd Taylor Hineston, LA
Hineston, LA
-4
9 DNF
9
5T
Dewayne Turner Jonesboro, LA
Jonesboro, LA
-
10 DNF
17
C29
Chelsea Hartegan Choudrant, LA
Choudrant, LA
7
11 DNF
10
E59
ERic McBride Jonesboro, LA
Jonesboro, LA
-1
12 DNF
12
12
David Smith Ruston, LA
Ruston, LA
-
13 DNF
1
35
Paul Graves Montgomery, LA
Montgomery, LA
-12
14 DNF
2
721
Matthew Lindsey Jonesboro, LA
Jonesboro, LA
-12
15 DNF
15
50
Keith Herring
-
16 DNF
14
16
Colby Cruse
-2
DNS
16
00
Richard Roberts
-
Finish
Start
#
Competitor
Hometown
+/-
1
2
35
Paul Graves Montgomery, LA
Montgomery, LA
1
2
5
99X
David Cotten Olla, LA
Olla, LA
3
3
7
41
Austin Wright Eros, LA
Eros, LA
4
4
4
X
Jeremy Allen Simsboro, LA
Simsboro, LA
-
5
9
5T
Dewayne Turner Jonesboro, LA
Jonesboro, LA
4
6
8
93
Caleb Smith Chatham, LA
Chatham, LA
2
7
1
14J
Lee Johnson
-6
8 DNF
6
50
Keith Herring
-2
9 DNF
3
C29
Chelsea Hartegan Choudrant, LA
Choudrant, LA
-6
All transfer
Finish
Start
#
Competitor
Hometown
+/-
1
1
721
Matthew Lindsey Jonesboro, LA
Jonesboro, LA
-
2
3
18T
Todd Taylor Hineston, LA
Hineston, LA
1
3
8
C28
Ben Merchant Ruston, LA
Ruston, LA
5
4
2
5X
Andrew Cox West Monroe, LA
West Monroe, LA
-2
5
5
E59
ERic McBride Jonesboro, LA
Jonesboro, LA
-
6 BF
7
12
David Smith Ruston, LA
Ruston, LA
1
7 DNF
4
16
Colby Cruse
-3
8 DNF
6
00
Richard Roberts
-2
All transfer
USRA Limiteds
Finish
Start
#
Competitor
Hometown
+/-
1
1
11S
Neil Standifer Simpson, LA
Simpson, LA
-
2
3
E8
Ethan Bailes Elizabeth, LA
Elizabeth, LA
1
3
2
9C
Christopher Freeland Bastrop, LA
Bastrop, LA
-1
4
8
A1
Heath Wilson Farmerville, LA
Farmerville, LA
4
5
17
47CC
Conner Williams Sibley, LA
Sibley, LA
12
6
6
19
Ronny Freeland Bastrop, LA
Bastrop, LA
-
7
4
28M
Mikey Merrell Jr Dry Prong, LA
Dry Prong, LA
-3
8
16
24T
Mason Taylor Glenmora, LA
Glenmora, LA
8
9
10
6S
Dylan Merrell Dry Prong, LA
Dry Prong, LA
1
10
14
0B
Hayden Beckham Quitman, LA
Quitman, LA
4
11
13
3R
Justin Robinson Hineston, LA
Hineston, LA
2
12 DNF
11
94
Patrick Ross West Monroe, LA
West Monroe, LA
-1
13 DNF
9
32
Nick Herzog
-4
14 DNF
7
12
Will Owens Calhoun, LA
Calhoun, LA
-7
15 DNF
12
5J
Jacob Burch Dry Prong, LA
Dry Prong, LA
-3
16 DNF
5
00
Brian Doles
-11
DNS
15
21B
Brian Bell Castor, LA
Castor, LA
-
Finish
Start
#
Competitor
Hometown
+/-
1
7
11S
Neil Standifer Simpson, LA
Simpson, LA
6
2
2
E8
Ethan Bailes Elizabeth, LA
Elizabeth, LA
-
3
5
00
Brian Doles
2
4
8
12
Will Owens Calhoun, LA
Calhoun, LA
4
5
3
32
Nick Herzog
-2
6
9
94
Patrick Ross West Monroe, LA
West Monroe, LA
3
7
4
3R
Justin Robinson Hineston, LA
Hineston, LA
-3
DNS
1
21B
Brian Bell Castor, LA
Castor, LA
-
DNS
6
47CC
Conner Williams Sibley, LA
Sibley, LA
-
All transfer
Finish
Start
#
Competitor
Hometown
+/-
1
1
9C
Christopher Freeland Bastrop, LA
Bastrop, LA
-
2
2
28M
Mikey Merrell Jr Dry Prong, LA
Dry Prong, LA
-
3
6
19
Ronny Freeland Bastrop, LA
Bastrop, LA
3
4
5
A1
Heath Wilson Farmerville, LA
Farmerville, LA
1
5
4
6S
Dylan Merrell Dry Prong, LA
Dry Prong, LA
-1
6
3
5J
Jacob Burch Dry Prong, LA
Dry Prong, LA
-3
7
7
0B
Hayden Beckham Quitman, LA
Quitman, LA
-
8
8
24T
Mason Taylor Glenmora, LA
Glenmora, LA
-
All transfer
USRA Tuners
Finish
Start
#
Competitor
Hometown
+/-
1
4
K1
Kobe Kulp Eros, LA
Eros, LA
3
2
2
18S
Billy Smith West Monroe, LA
West Monroe, LA
-
3
9
35
Shane Lowery Jonesboro, LA
Jonesboro, LA
6
4
6
20
Justin Frith
2
5
7
18
Chris Canterberry West Monroe, LA
West Monroe, LA
2
6
10
B1
Braxton Beckham Quitman, LA
Quitman, LA
4
7
8
36J
Josie Irvin Chatham, LA
Chatham, LA
1
8
3
H95
Dee Harris Choudrant, LA
Choudrant, LA
-5
9
12
K2
Kaylee Hartegan Choudrant, LA
Choudrant, LA
3
10 DNF
5
C4
Ava Cannady Hodge, LA
Hodge, LA
-5
DNS
11
II
Zachary Best Choudrant, LA
Choudrant, LA
-
DQ
1
10G
Bryan Guice Sibley, LA
Sibley, LA
-
Finish
Start
#
Competitor
Hometown
+/-
1
2
10G
Bryan Guice Sibley, LA
Sibley, LA
1
2
4
H95
Dee Harris Choudrant, LA
Choudrant, LA
2
3
6
C4
Ava Cannady Hodge, LA
Hodge, LA
3
4
5
18
Chris Canterberry West Monroe, LA
West Monroe, LA
1
5 DNF
1
35
Shane Lowery Jonesboro, LA
Jonesboro, LA
-4
6 DNF
3
II
Zachary Best Choudrant, LA
Choudrant, LA
-3
All transfer
Finish
Start
#
Competitor
Hometown
+/-
1
1
18S
Billy Smith West Monroe, LA
West Monroe, LA
-
2
5
K1
Kobe Kulp Eros, LA
Eros, LA
3
3
6
20
Justin Frith
3
4
3
36J
Josie Irvin Chatham, LA
Chatham, LA
-1
5
2
B1
Braxton Beckham Quitman, LA
Quitman, LA
-3
6
4
K2
Kaylee Hartegan Choudrant, LA
Choudrant, LA
-2
All transfer
Street Stocks
Finish
Start
#
Competitor
Hometown
+/-
1
1
25
Parker Cloud Elizabeth, LA
Elizabeth, LA
-
2
15
FLY0
Justin Cook Sterlington, LA
Sterlington, LA
13
3
3
10M
Talan Willis Elizabeth, LA
Elizabeth, LA
-
4
7
M9
Jason Bennett Farmerville, LA
Farmerville, LA
3
5
4
B8
PATRICK CRAWFORD Calhoun, LA
Calhoun, LA
-1
6
5
2X
Draven Laszlo Grayson, LA
Grayson, LA
-1
7
2
5H
Crystal Day Eros, LA
Eros, LA
-5
8
6
40R
Chucky Robertson Jonesboro, LA
Jonesboro, LA
-2
9
14
X3
Bubba Gowan Monroe, LA
Monroe, LA
5
10
10
28A
Tj Allen Saline, LA
Saline, LA
-
11
12
01
Lonnie Johnson Dry Prong, LA
Dry Prong, LA
1
12
11
ZR8
Zoie Whittington Ruston, LA
Ruston, LA
-1
13 DNF
8
50
Greg Cox West Monroe, LA
West Monroe, LA
-5
14 DNF
9
10K
Kale Murphrey Tullos, LA
Tullos, LA
-5
DNS
13
W8
Willie Neal Winnfield, LA
Winnfield, LA
-
Finish
Start
#
Competitor
Hometown
+/-
1
4
25
Parker Cloud Elizabeth, LA
Elizabeth, LA
3
2
5
10M
Talan Willis Elizabeth, LA
Elizabeth, LA
3
3
1
2X
Draven Laszlo Grayson, LA
Grayson, LA
-2
4
3
M9
Jason Bennett Farmerville, LA
Farmerville, LA
-1
5
6
10K
Kale Murphrey Tullos, LA
Tullos, LA
1
6
2
ZR8
Zoie Whittington Ruston, LA
Ruston, LA
-4
DNS
7
W8
Willie Neal Winnfield, LA
Winnfield, LA
-
DQ
8
FLY0
Justin Cook Sterlington, LA
Sterlington, LA
-
All transfer
Finish
Start
#
Competitor
Hometown
+/-
1
2
5H
Crystal Day Eros, LA
Eros, LA
1
2
7
B8
PATRICK CRAWFORD Calhoun, LA
Calhoun, LA
5
3
3
40R
Chucky Robertson Jonesboro, LA
Jonesboro, LA
-
4
5
50
Greg Cox West Monroe, LA
West Monroe, LA
1
5
6
28A
Tj Allen Saline, LA
Saline, LA
1
6
1
01
Lonnie Johnson Dry Prong, LA
Dry Prong, LA
-5
7
4
X3
Bubba Gowan Monroe, LA
Monroe, LA
-3
All transfer
Pro-Mods
Finish
Start
#
Competitor
Hometown
+/-
1
2
4
Devin Richards
1
2
1
10X
Jeremy Allen Simsboro, LA
Simsboro, LA
-1
3
7
50
Matthew Driskill Simsboro, LA
Simsboro, LA
4
4
6
75
Dusty Wilhite
2
5
9
R18
Ronnie King Simsboro, LA
Simsboro, LA
4
6
5
57
Michael Rawls WINNSBORO, LA
WINNSBORO, LA
-1
7
11
81
Matt Deville Ruston, LA
Ruston, LA
4
8 DNF
8
18J
Wayne Hart Jr Carthage, TX
Carthage, TX
-
9 DNF
12
J316
Kason Potter Bastrop, LA
Bastrop, LA
3
10 DNF
14
3J
Hunter Jones Simsboro, LA
Simsboro, LA
4
11 DNF
4
18H
Dakota Hart Carthage, TX
Carthage, TX
-7
12 DNF
10
257
Mike Jones Oak Grove, LA
Oak Grove, LA
-2
13 DNF
3
R3
Rusty Neff Ruston, LA
Ruston, LA
-10
DNS
13
35
Joshua Smith West Monroe, LA
West Monroe, LA
-
Finish
Start
#
Competitor
Hometown
+/-
1
3
10X
Jeremy Allen Simsboro, LA
Simsboro, LA
2
2
2
R3
Rusty Neff Ruston, LA
Ruston, LA
-
3
6
57
Michael Rawls WINNSBORO, LA
WINNSBORO, LA
3
4
7
50
Matthew Driskill Simsboro, LA
Simsboro, LA
3
5
1
R18
Ronnie King Simsboro, LA
Simsboro, LA
-4
6 DNF
4
81
Matt Deville Ruston, LA
Ruston, LA
-2
7 DNF
5
35
Joshua Smith West Monroe, LA
West Monroe, LA
-2
All transfer
Finish
Start
#
Competitor
Hometown
+/-
1
2
4
Devin Richards
1
2
3
18H
Dakota Hart Carthage, TX
Carthage, TX
1
3
7
75
Dusty Wilhite
4
4
1
18J
Wayne Hart Jr Carthage, TX
Carthage, TX
-3
5 DNF
4
257
Mike Jones Oak Grove, LA
Oak Grove, LA
-1
6 DNF
6
J316
Kason Potter Bastrop, LA
Bastrop, LA
-
7 DNF
5
3J
Hunter Jones Simsboro, LA
Simsboro, LA
-2
All transfer