Three USRA divisions spice up Saturday nights at Super Bee Speedway.

Matt Sheppard pocketed $20,000 for his Mods in the Marsh triumph.

Stewart Friesen kicked off the STSS weekend at Super Bee Speedway with a win.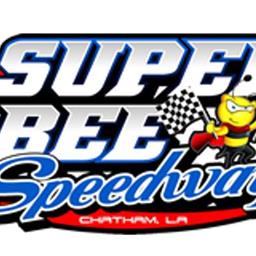 4/15/2023 - Super Bee Speedway
Chatham, LA
Weekly Racing & Rescheduled Egg Hunt
CRUSA Crates portion was ran on 7/21/23
Come join in the dirt track fun & bring the family for an egg hunt! Age categories for the egg hunt will be 1-3, 4-6, 5-7, 10-13, & special needs.
Sportsters
ProMods
Street Stocks
CRUSA Dirt Late Models

13 entries

USRA Limited Mods
USRA Factory Stocks
USRA Tuners
Full Event Information on MyRacePass
CRUSA Dirt Late Models
Finish
Start
#
Competitor
Hometown
+/-
1
1
78
Wyatt Wilkerson Bell City, LA
Bell City, LA
-
2
3
3
Seth Traweek West Monroe, LA
West Monroe, LA
1
3
2
15
Carlton Traweek West Monroe, LA
West Monroe, LA
-1
4
4
8
Tyler Owens Calhoun, LA
Calhoun, LA
-
5
8
1T
Tony Lindsey Keithville, LA
Keithville, LA
3
6
6
14
Darin Patrick West Monroe, LA
West Monroe, LA
-
7
5
54G
Garrett Gibson Haughton, LA
Haughton, LA
-2
8
7
T49
Raymond Taylor Ball, LA
Ball, LA
-1
9
12
17
Austin Storm
3
10
10
V8
Dalton Patrick West Monroe, LA
West Monroe, LA
-
11 DNF
9
00
James Shirley Columbia, LA
Columbia, LA
-2
DNS
11
P52
Payton Brown Calhoun, LA
Calhoun, LA
-
DNS
13
28C
Colton Guin
-
Finish
Start
#
Competitor
Hometown
+/-
1
3
78
Wyatt Wilkerson Bell City, LA
Bell City, LA
2
2
2
3
Seth Traweek West Monroe, LA
West Monroe, LA
-
3
1
54G
Garrett Gibson Haughton, LA
Haughton, LA
-2
4
4
T49
Raymond Taylor Ball, LA
Ball, LA
-
5
7
00
James Shirley Columbia, LA
Columbia, LA
2
6 DNF
5
P52
Payton Brown Calhoun, LA
Calhoun, LA
-1
DNS
6
28C
Colton Guin
-
All transfer
Finish
Start
#
Competitor
Hometown
+/-
1
1
15
Carlton Traweek West Monroe, LA
West Monroe, LA
-
2
3
8
Tyler Owens Calhoun, LA
Calhoun, LA
1
3
5
14
Darin Patrick West Monroe, LA
West Monroe, LA
2
4
2
1T
Tony Lindsey Keithville, LA
Keithville, LA
-2
5
6
V8
Dalton Patrick West Monroe, LA
West Monroe, LA
1
6 DNF
4
17
Austin Storm
-2
All transfer
Finish
Start
#
Competitor
Hometown
Time
1
6
54G
Garrett Gibson Haughton, LA
Haughton, LA
2
4
15
Carlton Traweek West Monroe, LA
West Monroe, LA
3
11
3
Seth Traweek West Monroe, LA
West Monroe, LA
4
13
1T
Tony Lindsey Keithville, LA
Keithville, LA
5
1
78
Wyatt Wilkerson Bell City, LA
Bell City, LA
6
5
8
Tyler Owens Calhoun, LA
Calhoun, LA
7
8
T49
Raymond Taylor Ball, LA
Ball, LA
8
10
17
Austin Storm
9
12
P52
Payton Brown Calhoun, LA
Calhoun, LA
10
9
14
Darin Patrick West Monroe, LA
West Monroe, LA
11
7
28C
Colton Guin
12
3
V8
Dalton Patrick West Monroe, LA
West Monroe, LA
13
2
00
James Shirley Columbia, LA
Columbia, LA