Three USRA divisions spice up Saturday nights at Super Bee Speedway.

Matt Sheppard pocketed $20,000 for his Mods in the Marsh triumph.

Stewart Friesen kicked off the STSS weekend at Super Bee Speedway with a win.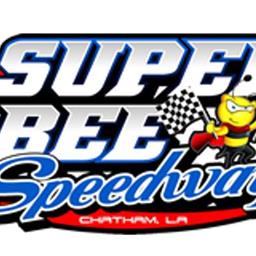 7/15/2023 - Super Bee Speedway
Chatham, LA
Wheelbarrow Race ~ Fan Appreciation
$5 General Admission & wheel barrel race! Bring your wheel barrel for some one of a kind racing at The Bee!
Sportsters

4 entries

ProMods

7 entries

Street Stocks

21 entries

CRUSA Dirt Late Models

14 entries

USRA Limited Mods

27 entries

USRA Factory Stocks

21 entries

USRA Tuners

12 entries
Full Event Information on MyRacePass
Sportsters
Finish
Start
#
Competitor
Hometown
+/-
1
1
FLY0
Jaxon Cook Monroe, LA
Monroe, LA
-
2
3
C13
Cody Chilton
1
3
2
D31
jd Dixon West Monroe, LA
West Monroe, LA
-1
DNS
4
7P
Drake Polk Jonesboro, LA
Jonesboro, LA
-
Finish
Start
#
Competitor
Hometown
+/-
1
1
FLY0
Jaxon Cook Monroe, LA
Monroe, LA
-
2
4
D31
jd Dixon West Monroe, LA
West Monroe, LA
2
3 DNF
2
C13
Cody Chilton
-1
DNS
3
7P
Drake Polk Jonesboro, LA
Jonesboro, LA
-
All transfer
ProMods
Finish
Start
#
Competitor
Hometown
+/-
1
1
12
Cory Nolen Pitkin, LA
Pitkin, LA
-
2
2
10X
Jeremy Allen Simsboro, LA
Simsboro, LA
-
3
6
01
Jaden Collins Colfax, LA
Colfax, LA
3
4
5
4T
Donald Thomas Ball, LA
Ball, LA
1
5 DNF
4
75
Dusty Wilhite
-1
6 DNF
3
74
Dalton Snoddy Ville Platte, LA
Ville Platte, LA
-3
7 DNF
7
29C
Cameron Pate Castor, LA
Castor, LA
-
Finish
Start
#
Competitor
Hometown
+/-
1
1
12
Cory Nolen Pitkin, LA
Pitkin, LA
-
2
6
10X
Jeremy Allen Simsboro, LA
Simsboro, LA
4
3
5
74
Dalton Snoddy Ville Platte, LA
Ville Platte, LA
2
4
2
75
Dusty Wilhite
-2
5
7
4T
Donald Thomas Ball, LA
Ball, LA
2
6
3
01
Jaden Collins Colfax, LA
Colfax, LA
-3
DNS
4
29C
Cameron Pate Castor, LA
Castor, LA
-
All transfer
Street Stocks
Finish
Start
#
Competitor
Hometown
+/-
1
1
FLY0
Justin Cook Sterlington, LA
Sterlington, LA
-
2
5
25
Kale Murphrey Tullos, LA
Tullos, LA
3
3
4
25C
Parker Cloud Elizabeth, LA
Elizabeth, LA
1
4
3
444
Jimmy Byrd Keatchie, LA
Keatchie, LA
-1
5
10
98
Clint Mashburn Crossett, AR
Crossett, AR
5
6
7
18G
CHRISTIAN GUFFEY Bentley, LA
Bentley, LA
1
7
8
7
Casey Hobson Sterlington, LA
Sterlington, LA
1
8
21
40R
Chucky Robertson Jonesboro, LA
Jonesboro, LA
13
9
6
20R
Rusty Fish Oakdale, LA
Oakdale, LA
-3
10
14
50
Greg Cox West Monroe, LA
West Monroe, LA
4
11
17
X3
Bubba Gowan Monroe, LA
Monroe, LA
6
12
19
ZR8
Zoie Whittington Ruston, LA
Ruston, LA
7
13
13
57
Michael Rawls WINNSBORO, LA
WINNSBORO, LA
-
14
20
33W
Wesley Carter Georgetown, LA
Georgetown, LA
6
15 DNF
12
C55
Cadden Price Sicily Island, LA
Sicily Island, LA
-3
16 DNF
15
23
Glenn Townsend Ville Platte, LA
Ville Platte, LA
-1
17 DNF
2
37
Mickey Steele Ball, LA
Ball, LA
-15
18 DNF
9
49F
Brady Fortenberry Eros, LA
Eros, LA
-9
19 DNF
11
M16
Mason Littles West Monroe, LA
West Monroe, LA
-8
20 DNF
16
24C
Bobby Chandler Dry Prong, LA
Dry Prong, LA
-4
DNS
18
33
Sara Carter Georgetown, LA
Georgetown, LA
-
Finish
Start
#
Competitor
Hometown
+/-
1
3
FLY0
Justin Cook Sterlington, LA
Sterlington, LA
2
2
1
25C
Parker Cloud Elizabeth, LA
Elizabeth, LA
-1
3
5
18G
CHRISTIAN GUFFEY Bentley, LA
Bentley, LA
2
4
6
98
Clint Mashburn Crossett, AR
Crossett, AR
2
5
4
57
Michael Rawls WINNSBORO, LA
WINNSBORO, LA
-1
6 DNF
2
24C
Bobby Chandler Dry Prong, LA
Dry Prong, LA
-4
DNS
7
ZR8
Zoie Whittington Ruston, LA
Ruston, LA
-
All transfer
Finish
Start
#
Competitor
Hometown
+/-
1
4
37
Mickey Steele Ball, LA
Ball, LA
3
2
6
25
Kale Murphrey Tullos, LA
Tullos, LA
4
3
1
7
Casey Hobson Sterlington, LA
Sterlington, LA
-2
4
3
M16
Mason Littles West Monroe, LA
West Monroe, LA
-1
5
2
50
Greg Cox West Monroe, LA
West Monroe, LA
-3
6
5
X3
Bubba Gowan Monroe, LA
Monroe, LA
-1
7
7
33W
Wesley Carter Georgetown, LA
Georgetown, LA
-
All transfer
Finish
Start
#
Competitor
Hometown
+/-
1
6
444
Jimmy Byrd Keatchie, LA
Keatchie, LA
5
2
2
20R
Rusty Fish Oakdale, LA
Oakdale, LA
-
3
3
49F
Brady Fortenberry Eros, LA
Eros, LA
-
4
1
C55
Cadden Price Sicily Island, LA
Sicily Island, LA
-3
5
5
23
Glenn Townsend Ville Platte, LA
Ville Platte, LA
-
6
7
33
Sara Carter Georgetown, LA
Georgetown, LA
1
DNS
4
40R
Chucky Robertson Jonesboro, LA
Jonesboro, LA
-
All transfer
CRUSA Dirt Late Models
Finish
Start
#
Competitor
Hometown
+/-
1
1
28C
Colton Guin
-
2
2
B89
Dakota Smith Tullos, LA
Tullos, LA
-
3
5
51
Tyler Burnett Calhoun, LA
Calhoun, LA
2
4
7
8
Tyler Owens Calhoun, LA
Calhoun, LA
3
5
6
17
Austin Storm
1
6
14
1
Waylon Morris Benville, LA
Benville, LA
8
7
12
9X
Bubba Mullins West Monroe, LA
West Monroe, LA
5
8
11
9
James Moore Edwards, MS
Edwards, MS
3
9
8
T49
Raymond Taylor Ball, LA
Ball, LA
-1
10
13
P52
Payton Brown Calhoun, LA
Calhoun, LA
3
11 DNF
3
14
Darin Patrick West Monroe, LA
West Monroe, LA
-8
12 DNF
10
V8
Dalton Patrick West Monroe, LA
West Monroe, LA
-2
13 DNF
4
12E
Dewayne Estes Sturgis, MS
Sturgis, MS
-9
14 DNF
9
00S
James Shirley West Monroe, LA
West Monroe, LA
-5
Finish
Start
#
Competitor
Hometown
+/-
1
1
28C
Colton Guin
-
2
5
14
Darin Patrick West Monroe, LA
West Monroe, LA
3
3
4
51
Tyler Burnett Calhoun, LA
Calhoun, LA
1
4
7
8
Tyler Owens Calhoun, LA
Calhoun, LA
3
5
2
00S
James Shirley West Monroe, LA
West Monroe, LA
-3
6
6
9
James Moore Edwards, MS
Edwards, MS
-
DNS
3
P52
Payton Brown Calhoun, LA
Calhoun, LA
-
All transfer
Finish
Start
#
Competitor
Hometown
+/-
1
1
B89
Dakota Smith Tullos, LA
Tullos, LA
-
2
2
12E
Dewayne Estes Sturgis, MS
Sturgis, MS
-
3
4
17
Austin Storm
1
4
6
T49
Raymond Taylor Ball, LA
Ball, LA
2
5
7
V8
Dalton Patrick West Monroe, LA
West Monroe, LA
2
6 DNF
3
9X
Bubba Mullins West Monroe, LA
West Monroe, LA
-3
7 DNF
5
1
Waylon Morris Benville, LA
Benville, LA
-2
All transfer
USRA Limited Mods
Finish
Start
#
Competitor
Hometown
+/-
1
1
E8
Ethan Bailes Elizabeth, LA
Elizabeth, LA
-
2
3
FLYO
Justin Cook Sterlington, LA
Sterlington, LA
1
3
2
39
Trevor Strother Oakdale, LA
Oakdale, LA
-1
4
5
19
Ronny Freeland Bastrop, LA
Bastrop, LA
1
5
8
21X
Zachary Heflin Pitkin, LA
Pitkin, LA
3
6
7
22
Michael Stafford Glenmora, LA
Glenmora, LA
1
7
15
9C
Christopher Freeland Bastrop, LA
Bastrop, LA
8
8
20
15J
Dalton Snoddy Ville Platte, LA
Ville Platte, LA
12
9
13
21B
Brian Bell Castor, LA
Castor, LA
4
10
14
21
Jason Pool Calhoun, LA
Calhoun, LA
4
11
19
28M
Mikey Merrell Jr. Dry Prong, LA
Dry Prong, LA
8
12 DNF
18
12
Will Owens Calhoun, LA
Calhoun, LA
6
13 DNF
6
75
Keith Strother Oakdale, LA
Oakdale, LA
-7
14 DNF
4
47CC
Conner Williams Sibley, LA
Sibley, LA
-10
15 DNF
10
17
Trenton Eason Forest Hill, LA
Forest Hill, LA
-5
16 DNF
11
13
Butch Gruden somewhere, LA
somewhere, LA
-5
17 DNF
9
R3
Rusty Neff Ruston, LA
Ruston, LA
-8
18 DNF
17
7CC
Colby Williams Sibley, LA
Sibley, LA
-1
DNS
12
7S
Braden Stewart Collinston, LA
Collinston, LA
-
DNS
16
B75
James Shirley West Monroe, LA
West Monroe, LA
-
Finish
Start
#
Competitor
Hometown
+/-
1
2
7CC
Colby Williams Sibley, LA
Sibley, LA
1
2
3
12
Will Owens Calhoun, LA
Calhoun, LA
1
3
1
28M
Mikey Merrell Jr. Dry Prong, LA
Dry Prong, LA
-2
4
8
15J
Dalton Snoddy Ville Platte, LA
Ville Platte, LA
4
Top 4 transfer
5
4
5X
Andrew Cox West Monroe, LA
West Monroe, LA
-1
6
10
R18
Ronnie King Ruston, LA
Ruston, LA
4
7
6
50
Carl Driskill Simsboror, LA
Simsboror, LA
-1
DNS
5
18K
Kendall Puckett Dubach, LA
Dubach, LA
-
DNS
7
M22
James Dubroc Boyce, LA
Boyce, LA
-
DNS
9
K9
Richie Patton Quitman, LA
Quitman, LA
-
DNS
11
91
Chris Freeland Bastrop, LA
Bastrop, LA
-
Finish
Start
#
Competitor
Hometown
+/-
1
6
E8
Ethan Bailes Elizabeth, LA
Elizabeth, LA
5
2
3
19
Ronny Freeland Bastrop, LA
Bastrop, LA
1
3
4
R3
Rusty Neff Ruston, LA
Ruston, LA
1
4
5
21B
Brian Bell Castor, LA
Castor, LA
1
Top 4 transfer
5 DNF
7
28M
Mikey Merrell Jr. Dry Prong, LA
Dry Prong, LA
2
DNS
1
18K
Kendall Puckett Dubach, LA
Dubach, LA
-
DQ
2
91
Chris Freeland Bastrop, LA
Bastrop, LA
-
Finish
Start
#
Competitor
Hometown
+/-
1
3
39
Trevor Strother Oakdale, LA
Oakdale, LA
2
2
4
75
Keith Strother Oakdale, LA
Oakdale, LA
2
3
2
17
Trenton Eason Forest Hill, LA
Forest Hill, LA
-1
4 DNF
7
21
Jason Pool Calhoun, LA
Calhoun, LA
3
Top 4 transfer
5 DNF
5
7CC
Colby Williams Sibley, LA
Sibley, LA
-
6 DNF
1
50
Carl Driskill Simsboror, LA
Simsboror, LA
-5
7 DNF
6
K9
Richie Patton Quitman, LA
Quitman, LA
-1
Finish
Start
#
Competitor
Hometown
+/-
1
3
FLYO
Justin Cook Sterlington, LA
Sterlington, LA
2
2
1
22
Michael Stafford Glenmora, LA
Glenmora, LA
-1
3
4
13
Butch Gruden somewhere, LA
somewhere, LA
1
4
5
9C
Christopher Freeland Bastrop, LA
Bastrop, LA
1
Top 4 transfer
5
6
12
Will Owens Calhoun, LA
Calhoun, LA
1
6
2
M22
James Dubroc Boyce, LA
Boyce, LA
-4
7
7
R18
Ronnie King Ruston, LA
Ruston, LA
-
Finish
Start
#
Competitor
Hometown
+/-
1
3
47CC
Conner Williams Sibley, LA
Sibley, LA
2
2
2
21X
Zachary Heflin Pitkin, LA
Pitkin, LA
-
3
1
7S
Braden Stewart Collinston, LA
Collinston, LA
-2
4 DNF
4
B75
James Shirley West Monroe, LA
West Monroe, LA
-
Top 4 transfer
5 DNF
6
5X
Andrew Cox West Monroe, LA
West Monroe, LA
1
6 DNF
5
15J
Dalton Snoddy Ville Platte, LA
Ville Platte, LA
-1
USRA Factory Stocks
Finish
Start
#
Competitor
Hometown
+/-
1
1
2
C.J. Howell Dry Prong, LA
Dry Prong, LA
-
2
2
37
Matthew Driskill Ruston, LA
Ruston, LA
-
3
5
125
Mark Underwood Jr Ruston, LA
Ruston, LA
2
4
3
12X
Jeremy Allen Simsboro, LA
Simsboro, LA
-1
5
4
721
Matthew Lindsey Jonesboro, LA
Jonesboro, LA
-1
6
6
L88
Logan Gordon W Monroe, LA
W Monroe, LA
-
7
9
12
David Smith Ruston, LA
Ruston, LA
2
8
18
9
John Parker III Dry Prong, LA
Dry Prong, LA
10
9
7
15X
Dakoda Wyatt Provencal, LA
Provencal, LA
-2
10
15
C28
Ben Merchant Ruston, LA
Ruston, LA
5
11
19
00
Richard Roberts
8
12
13
14J
Lee Johnson
1
13 DNF
14
16
Colby Cruse
1
14 DNF
8
4
Mickey Steele Ball, LA
Ball, LA
-6
15 DNF
21
16R
thomas ramsey Grayson, LA
Grayson, LA
6
16 DNF
12
28A
Tj Allen Saline, LA
Saline, LA
-4
17 DNF
11
09
Dawson Moore Bastrop, LA
Bastrop, LA
-6
18 DNF
17
11
Sean Martin Alexandria, LA
Alexandria, LA
-1
19 DNF
10
5T
Dewayne Turner Jonesboro, LA
Jonesboro, LA
-9
DNS
16
B1
Braxton Beckham Quitman, LA
Quitman, LA
-
DNS
20
3
Rodney Howell Colfax, LA
Colfax, LA
-
Finish
Start
#
Competitor
Hometown
+/-
1
4
2
C.J. Howell Dry Prong, LA
Dry Prong, LA
3
2
1
721
Matthew Lindsey Jonesboro, LA
Jonesboro, LA
-1
3
5
15X
Dakoda Wyatt Provencal, LA
Provencal, LA
2
4
6
5T
Dewayne Turner Jonesboro, LA
Jonesboro, LA
2
5
2
14J
Lee Johnson
-3
6
7
B1
Braxton Beckham Quitman, LA
Quitman, LA
1
7
3
00
Richard Roberts
-4
All transfer
Finish
Start
#
Competitor
Hometown
+/-
1
1
37
Matthew Driskill Ruston, LA
Ruston, LA
-
2
2
125
Mark Underwood Jr Ruston, LA
Ruston, LA
-
3
5
4
Mickey Steele Ball, LA
Ball, LA
2
4
7
09
Dawson Moore Bastrop, LA
Bastrop, LA
3
5
4
16
Colby Cruse
-1
6
6
11
Sean Martin Alexandria, LA
Alexandria, LA
-
DNS
3
3
Rodney Howell Colfax, LA
Colfax, LA
-
All transfer
Finish
Start
#
Competitor
Hometown
+/-
1
4
12X
Jeremy Allen Simsboro, LA
Simsboro, LA
3
2
3
L88
Logan Gordon W Monroe, LA
W Monroe, LA
1
3
1
12
David Smith Ruston, LA
Ruston, LA
-2
4
7
28A
Tj Allen Saline, LA
Saline, LA
3
5
5
C28
Ben Merchant Ruston, LA
Ruston, LA
-
6 DNF
6
9
John Parker III Dry Prong, LA
Dry Prong, LA
-
7 DNF
2
16R
thomas ramsey Grayson, LA
Grayson, LA
-5
All transfer
USRA Tuners
Finish
Start
#
Competitor
Hometown
+/-
1
1
C4
Ava Cannady Hodge, LA
Hodge, LA
-
2
6
411
Ashley Kulp
4
3
4
K1
Kobe Kulp Eros, LA
Eros, LA
1
4
2
18S
Billy Smith Rocky Branch, LA
Rocky Branch, LA
-2
5
7
36J
Josie Irvin Chatham, LA
Chatham, LA
2
6
10
96
Chucky Robertson Jonesboro, LA
Jonesboro, LA
4
7
12
C1
Tyler Colvin West Monroe, LA
West Monroe, LA
5
8 DNF
3
15
Michael Ward WINNSBORO, LA
WINNSBORO, LA
-5
9 DNF
9
442
Taylor Thomas West Monroe, LA
West Monroe, LA
-
10 DNF
11
19S
Billy Smith Sr. Farmerville, LA
Farmerville, LA
1
11 DNF
5
H95
Dee Harris Choudrant, LA
Choudrant, LA
-6
DNS
8
J20
Justin Frith
-
Finish
Start
#
Competitor
Hometown
+/-
1
1
C4
Ava Cannady Hodge, LA
Hodge, LA
-
2
3
15
Michael Ward WINNSBORO, LA
WINNSBORO, LA
1
3
4
H95
Dee Harris Choudrant, LA
Choudrant, LA
1
4
5
36J
Josie Irvin Chatham, LA
Chatham, LA
1
5 DNF
2
442
Taylor Thomas West Monroe, LA
West Monroe, LA
-3
6 DNF
6
19S
Billy Smith Sr. Farmerville, LA
Farmerville, LA
-
All transfer