Three USRA divisions spice up Saturday nights at Super Bee Speedway.

Matt Sheppard pocketed $20,000 for his Mods in the Marsh triumph.

Stewart Friesen kicked off the STSS weekend at Super Bee Speedway with a win.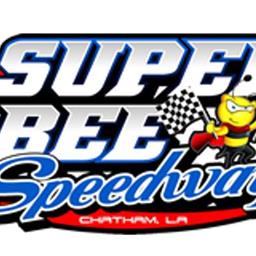 8/5/2023 - Super Bee Speedway
Chatham, LA
STSS Cajun Region Back to School Bash
Bring school supplies & get in for $10! Teachers, Bus drivers, & school employees can show their employee badge and get in for $10!
Sportsters

5 entries

ProMods

9 entries

Street Stocks

13 entries

CRUSA Dirt Late Models

13 entries

USRA Limited Mods

8 entries

USRA Factory Stocks

16 entries

USRA Tuners

10 entries

STSS Cajun Region

8 entries
Full Event Information on MyRacePass
ProMods
Finish
Start
#
Competitor
Hometown
+/-
1
5
J316
Kason Potter Bastrop, LA
Bastrop, LA
4
2
7
01
Jaden Collins Colfax, LA
Colfax, LA
5
3
6
4T
Donald Thomas Ball, LA
Ball, LA
3
4 DNF
3
57
Michael Rawls WINNSBORO, LA
WINNSBORO, LA
-1
5 DNF
9
35
Joshua Smith West Monroe, LA
West Monroe, LA
4
6 DNF
1
10X
Jeremy Allen Simsboro, LA
Simsboro, LA
-5
7 DNF
2
257
Brian Doles
-5
8 DNF
4
75
Dusty Wilhite
-4
DNS
8
21
Justin Pool Calhoun, LA
Calhoun, LA
-
Finish
Start
#
Competitor
Hometown
+/-
1
5
10X
Jeremy Allen Simsboro, LA
Simsboro, LA
4
2
7
257
Brian Doles
5
3
1
57
Michael Rawls WINNSBORO, LA
WINNSBORO, LA
-2
4
6
75
Dusty Wilhite
2
5
4
J316
Kason Potter Bastrop, LA
Bastrop, LA
-1
6
3
4T
Donald Thomas Ball, LA
Ball, LA
-3
7
9
01
Jaden Collins Colfax, LA
Colfax, LA
2
8 DNF
8
21
Justin Pool Calhoun, LA
Calhoun, LA
-
9 DNF
2
35
Joshua Smith West Monroe, LA
West Monroe, LA
-7
All transfer
Street Stocks
Finish
Start
#
Competitor
Hometown
+/-
1
4
25K
Kale Murphrey Tullos, LA
Tullos, LA
3
2
6
98
Dewayne Estes Sturgis, MS
Sturgis, MS
4
3
2
24C
Bobby Chandler Dry Prong, LA
Dry Prong, LA
-1
4
8
FLY0
Justin Cook Sterlington, LA
Sterlington, LA
4
5
1
444
Jimmy Byrd Keatchie, LA
Keatchie, LA
-4
6
5
40R
Chucky Robertson Jonesboro, LA
Jonesboro, LA
-1
7
3
57
Michael Rawls WINNSBORO, LA
WINNSBORO, LA
-4
8
7
20R
Rusty Fish Oakdale, LA
Oakdale, LA
-1
9
11
ZR8
Zoie Whittington Ruston, LA
Ruston, LA
2
10
12
25
Parker Cloud Elizabeth, LA
Elizabeth, LA
2
11 DNF
9
X3
Bubba Gowan Monroe, LA
Monroe, LA
-2
12 DNF
10
22
Dustin Morrow Dubach, LA
Dubach, LA
-2
13 DNF
13
49F
Brady Fortenberry Eros, LA
Eros, LA
-
Finish
Start
#
Competitor
Hometown
+/-
1
5
444
Jimmy Byrd Keatchie, LA
Keatchie, LA
4
2
2
57
Michael Rawls WINNSBORO, LA
WINNSBORO, LA
-
3
3
40R
Chucky Robertson Jonesboro, LA
Jonesboro, LA
-
4
6
20R
Rusty Fish Oakdale, LA
Oakdale, LA
2
5
1
X3
Bubba Gowan Monroe, LA
Monroe, LA
-4
6
4
ZR8
Zoie Whittington Ruston, LA
Ruston, LA
-2
7 DNF
7
49F
Brady Fortenberry Eros, LA
Eros, LA
-
All transfer
Finish
Start
#
Competitor
Hometown
+/-
1
2
24C
Bobby Chandler Dry Prong, LA
Dry Prong, LA
1
2
5
25K
Kale Murphrey Tullos, LA
Tullos, LA
3
3
1
98
Dewayne Estes Sturgis, MS
Sturgis, MS
-2
4
6
FLY0
Justin Cook Sterlington, LA
Sterlington, LA
2
5
3
22
Dustin Morrow Dubach, LA
Dubach, LA
-2
6 DNF
4
25
Parker Cloud Elizabeth, LA
Elizabeth, LA
-2
All transfer
CRUSA Dirt Late Models
Finish
Start
#
Competitor
Hometown
+/-
1
4
9X
Bubba Mullins West Monroe, LA
West Monroe, LA
3
2
1
3
Seth Traweek West Monroe, LA
West Monroe, LA
-1
3
6
15
Carlton Traweek West Monroe, LA
West Monroe, LA
3
4
7
14
Darin Patrick West Monroe, LA
West Monroe, LA
3
5
2
54G
Garrett Gibson Haughton, LA
Haughton, LA
-3
6
3
17
Austin Storm
-3
7
5
91B
Jonathan Babin Pineville, LA
Pineville, LA
-2
8
8
1
Payton Brown Calhoun, LA
Calhoun, LA
-
9
11
9
James Moore Edwards, MS
Edwards, MS
2
10
13
T49
Raymond Taylor Ball, LA
Ball, LA
3
11
9
21X
RYAN FRENCH Natchitoches, LA
Natchitoches, LA
-2
12 DNF
12
00
James Shirley Columbia, LA
Columbia, LA
-
13 DNF
10
V8
Dalton Patrick West Monroe, LA
West Monroe, LA
-3
Finish
Start
#
Competitor
Hometown
+/-
1
1
3
Seth Traweek West Monroe, LA
West Monroe, LA
-
2
2
17
Austin Storm
-
3
5
91B
Jonathan Babin Pineville, LA
Pineville, LA
2
4
3
14
Darin Patrick West Monroe, LA
West Monroe, LA
-1
5
7
21X
RYAN FRENCH Natchitoches, LA
Natchitoches, LA
2
6
4
9
James Moore Edwards, MS
Edwards, MS
-2
7
6
T49
Raymond Taylor Ball, LA
Ball, LA
-1
All transfer
Finish
Start
#
Competitor
Hometown
+/-
1
1
54G
Garrett Gibson Haughton, LA
Haughton, LA
-
2
6
9X
Bubba Mullins West Monroe, LA
West Monroe, LA
4
3
3
15
Carlton Traweek West Monroe, LA
West Monroe, LA
-
4
2
1
Payton Brown Calhoun, LA
Calhoun, LA
-2
5
4
V8
Dalton Patrick West Monroe, LA
West Monroe, LA
-1
6
5
00
James Shirley Columbia, LA
Columbia, LA
-1
All transfer
Finish
Start
#
Competitor
Hometown
Time
1
7
3
Seth Traweek West Monroe, LA
West Monroe, LA
2
4
54G
Garrett Gibson Haughton, LA
Haughton, LA
3
2
17
Austin Storm
4
3
1
Payton Brown Calhoun, LA
Calhoun, LA
5
13
14
Darin Patrick West Monroe, LA
West Monroe, LA
6
8
15
Carlton Traweek West Monroe, LA
West Monroe, LA
7
10
9
James Moore Edwards, MS
Edwards, MS
8
9
V8
Dalton Patrick West Monroe, LA
West Monroe, LA
9
12
91B
Jonathan Babin Pineville, LA
Pineville, LA
10
1
00
James Shirley Columbia, LA
Columbia, LA
11
11
T49
Raymond Taylor Ball, LA
Ball, LA
DNS
5
9X
Bubba Mullins West Monroe, LA
West Monroe, LA
DQ
6
21X
RYAN FRENCH Natchitoches, LA
Natchitoches, LA
USRA Limited Mods
Finish
Start
#
Competitor
Hometown
+/-
1
2
12
T.J. Bond Calhoun, LA
Calhoun, LA
1
2
1
E8
Ethan Bailes Elizabeth, LA
Elizabeth, LA
-1
3
3
19
Ronny Freeland Bastrop, LA
Bastrop, LA
-
4
5
7S
Braden Stewart Collinston, LA
Collinston, LA
1
5
7
28M
Dylan Merrell Dry Prong, LA
Dry Prong, LA
2
6
4
R3
Rusty Neff Ruston, LA
Ruston, LA
-2
7
6
R18
Ronnie King Ruston, LA
Ruston, LA
-1
DNS
8
21
Justin Pool Calhoun, LA
Calhoun, LA
-
Finish
Start
#
Competitor
Hometown
+/-
1
1
E8
Ethan Bailes Elizabeth, LA
Elizabeth, LA
-
2
3
12
T.J. Bond Calhoun, LA
Calhoun, LA
1
3
5
19
Ronny Freeland Bastrop, LA
Bastrop, LA
2
4
4
R3
Rusty Neff Ruston, LA
Ruston, LA
-
5
6
7S
Braden Stewart Collinston, LA
Collinston, LA
1
6
2
R18
Ronnie King Ruston, LA
Ruston, LA
-4
7
7
28M
Dylan Merrell Dry Prong, LA
Dry Prong, LA
-
DNS
8
21
Justin Pool Calhoun, LA
Calhoun, LA
-
All transfer
USRA Factory Stocks
Finish
Start
#
Competitor
Hometown
+/-
1
5
L88
Logan Gordon W Monroe, LA
W Monroe, LA
4
2
1
2
C.J. Howell Dry Prong, LA
Dry Prong, LA
-1
3
4
93
Caleb Smith Chatham, LA
Chatham, LA
1
4
13
37
Matthew Driskill Ruston, LA
Ruston, LA
9
5
8
18T
Todd Taylor Hineston, LA
Hineston, LA
3
6
16
B1
Braxton Beckham Quitman, LA
Quitman, LA
10
7 BF
7
12
David Smith Ruston, LA
Ruston, LA
-
8 DNF
3
C28
Ben Merchant Ruston, LA
Ruston, LA
-5
9 DNF
11
28A
Tj Allen Saline, LA
Saline, LA
2
10 DNF
10
721
Matthew Lindsey Jonesboro, LA
Jonesboro, LA
-
11 DNF
9
98
Cason Dillard Natchitoches, LA
Natchitoches, LA
-2
12 DNF
15
5T
Dewayne Turner Jonesboro, LA
Jonesboro, LA
3
13 DNF
6
16
Colby Cruse
-7
DNS
12
18E
Tanner Pittmon Colfax, LA
Colfax, LA
-
DNS
14
00
David Vosbury Keithville, LA
Keithville, LA
-
DQ
2
X
Jeremy Allen Simsboro, LA
Simsboro, LA
-
Finish
Start
#
Competitor
Hometown
+/-
1
1
2
C.J. Howell Dry Prong, LA
Dry Prong, LA
-
2
6
C28
Ben Merchant Ruston, LA
Ruston, LA
4
3
3
L88
Logan Gordon W Monroe, LA
W Monroe, LA
-
4
8
12
David Smith Ruston, LA
Ruston, LA
4
5
2
98
Cason Dillard Natchitoches, LA
Natchitoches, LA
-3
6
4
28A
Tj Allen Saline, LA
Saline, LA
-2
7
7
37
Matthew Driskill Ruston, LA
Ruston, LA
-
8
5
5T
Dewayne Turner Jonesboro, LA
Jonesboro, LA
-3
All transfer
Finish
Start
#
Competitor
Hometown
+/-
1
5
X
Jeremy Allen Simsboro, LA
Simsboro, LA
4
2
2
93
Caleb Smith Chatham, LA
Chatham, LA
-
3
6
16
Colby Cruse
3
4
7
18T
Todd Taylor Hineston, LA
Hineston, LA
3
5 DNF
4
721
Matthew Lindsey Jonesboro, LA
Jonesboro, LA
-1
6 DNF
8
18E
Tanner Pittmon Colfax, LA
Colfax, LA
2
7 DNF
3
00
David Vosbury Keithville, LA
Keithville, LA
-4
8 DNF
1
B1
Braxton Beckham Quitman, LA
Quitman, LA
-7
All transfer
USRA Tuners
Finish
Start
#
Competitor
Hometown
+/-
1
2
K1
Kobe Kulp Eros, LA
Eros, LA
1
2
4
96
Wayne Anderson Jonesboro, LA
Jonesboro, LA
2
3
5
C4
Ava Cannady Hodge, LA
Hodge, LA
2
4
6
36J
Josie Irvin Chatham, LA
Chatham, LA
2
5
1
18S
Billy Smith Rocky Branch, LA
Rocky Branch, LA
-4
6
8
23B
Breanna Liles Beinville, LA
Beinville, LA
2
7 DNF
3
7
Robert Vanderwaters Pineville, LA
Pineville, LA
-4
DNS
9
19S
Billy Smith Sr. Farmerville, LA
Farmerville, LA
-
DNS
10
C1
Tyler Colvin West Monroe, LA
West Monroe, LA
-
DQ
7
411
Kyle Learned Vicksburg, MS
Vicksburg, MS
-
Finish
Start
#
Competitor
Hometown
+/-
1
2
18S
Billy Smith Rocky Branch, LA
Rocky Branch, LA
1
2
1
K1
Kobe Kulp Eros, LA
Eros, LA
-1
3
7
7
Robert Vanderwaters Pineville, LA
Pineville, LA
4
4
6
96
Wayne Anderson Jonesboro, LA
Jonesboro, LA
2
5
8
C4
Ava Cannady Hodge, LA
Hodge, LA
3
6
4
36J
Josie Irvin Chatham, LA
Chatham, LA
-2
7 DNF
9
411
Kyle Learned Vicksburg, MS
Vicksburg, MS
2
8 DNF
3
23B
Breanna Liles Beinville, LA
Beinville, LA
-5
9 DNF
5
19S
Billy Smith Sr. Farmerville, LA
Farmerville, LA
-4
10 DNF
10
C1
Tyler Colvin West Monroe, LA
West Monroe, LA
-
All transfer
STSS Cajun Region
Finish
Start
#
Competitor
Hometown
+/-
1
2
18
Caleb Dillard Robeline, LA
Robeline, LA
1
2
3
22M
Anthony Meek Markee, LA
Markee, LA
1
3
4
R21
Tommy Rascoe Converse, LA
Converse, LA
1
4
5
29
Cory Oltz Oakdale, LA
Oakdale, LA
1
5
7
4
Thomas Holt Atlanta, TX
Atlanta, TX
2
6
8
33
Richard Holt McCleod, TX
McCleod, TX
2
7 DNF
6
8
Timothy Holt Rodessa, LA
Rodessa, LA
-1
8 DNF
1
44
Brother Fowlkes Woodworth, LA
Woodworth, LA
-7
Finish
Start
#
Competitor
Hometown
+/-
1
2
18
Caleb Dillard Robeline, LA
Robeline, LA
1
2
4
22M
Anthony Meek Markee, LA
Markee, LA
2
3
1
29
Cory Oltz Oakdale, LA
Oakdale, LA
-2
4
3
4
Thomas Holt Atlanta, TX
Atlanta, TX
-1
All transfer