Three USRA divisions spice up Saturday nights at Super Bee Speedway.

Matt Sheppard pocketed $20,000 for his Mods in the Marsh triumph.

Stewart Friesen kicked off the STSS weekend at Super Bee Speedway with a win.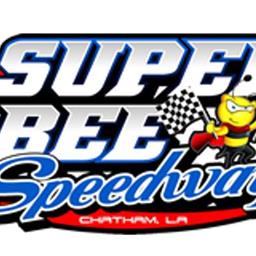 8/12/2023 - Super Bee Speedway
Chatham, LA
Freddy Cook Memorial
$2,500 to win CRUSA Crates & USRA Factory Stock!
$2,000 to win ProMod!
$1,000 to win Street & USRA Limited!
$400 to win Sportster & USRA Tuner!
No Entry Fees!!
$35 Pit Passes
$10 General Admission
Sportsters

10 entries

ProMods

19 entries

Street Stocks

15 entries

CRUSA Dirt Late Models

24 entries

USRA Limited Mods

25 entries

USRA Factory Stocks

19 entries

USRA Tuners

12 entries
Full Event Information on MyRacePass
Sportsters
Finish
Start
#
Competitor
Hometown
+/-
1
1
4A
Austin Warner Bossier City, LA
Bossier City, LA
-
2
3
FLY0JR
Jaxon Cook Monroe, LA
Monroe, LA
1
3
7
E7
Chris Weatherford Longview, TX
Longview, TX
4
4
4
194
John McCune Stonewall, LA
Stonewall, LA
-
5
10
B1
Benton Ball Marion, LA
Marion, LA
5
6
9
49
Chad Porter Longview, TX
Longview, TX
3
7 DNF
8
D31
jd Dixon West Monroe, LA
West Monroe, LA
1
8 DNF
5
XXX
Brittany Graham Shreveport, LA
Shreveport, LA
-3
9 DNF
2
C13
Cody Chilton
-7
10 DNF
6
X
Racyn Graham Shreveport, LA
Shreveport, LA
-4
Finish
Start
#
Competitor
Hometown
+/-
1
1
4A
Austin Warner Bossier City, LA
Bossier City, LA
-
2
5
FLY0JR
Jaxon Cook Monroe, LA
Monroe, LA
3
3
2
XXX
Brittany Graham Shreveport, LA
Shreveport, LA
-1
4
4
E7
Chris Weatherford Longview, TX
Longview, TX
-
5
3
49
Chad Porter Longview, TX
Longview, TX
-2
All transfer
Finish
Start
#
Competitor
Hometown
+/-
1
4
C13
Cody Chilton
3
2
3
194
John McCune Stonewall, LA
Stonewall, LA
1
3
2
X
Racyn Graham Shreveport, LA
Shreveport, LA
-1
4
1
D31
jd Dixon West Monroe, LA
West Monroe, LA
-3
5
5
B1
Benton Ball Marion, LA
Marion, LA
-
All transfer
ProMods
Finish
Start
#
Competitor
Hometown
+/-
1
5
12
Cory Nolen Pitkin, LA
Pitkin, LA
4
2
2
4
Devin Richards
-
3
4
FLY0
Justin Cook Monroe, LA
Monroe, LA
1
4
3
4B
Josh Baucom Shreveport, LA
Shreveport, LA
-1
5
10
29
Dustin Turnage Lacamp, LA
Lacamp, LA
5
6
1
257
Brian Doles
-5
7
13
4W
Tyler Willis Pitkin, LA
Pitkin, LA
6
8
12
R3
Rusty Neff Ruston, LA
Ruston, LA
4
9
19
01
Lonnie Johnson Dry Prong, LA
Dry Prong, LA
10
10
9
00
Clint McLaughlin Elmer, LA
Elmer, LA
-1
11
6
515
Trent Humphrey Haughton, LA
Haughton, LA
-5
12 DNF
11
J316
Kason Potter Bastrop, LA
Bastrop, LA
-1
13 DNF
15
B60
Jared Cloud Elmer, La, LA
Elmer, La, LA
2
14 DNF
14
21
Jake Haddox Choudrant, LA
Choudrant, LA
-
15 DNF
8
75
Dusty Wilhite
-7
16 DNF
16
81
Matt Deville Ruston, LA
Ruston, LA
-
17 DNF
18
88
Michael Torres Jr Hineston, LA
Hineston, LA
1
18 DNF
17
49C
Timothy Bell Shreveport, LA
Shreveport, LA
-1
DQ
7
F22
Blane Perkins Oakdale, LA
Oakdale, LA
-
Finish
Start
#
Competitor
Hometown
+/-
1
2
257
Brian Doles
1
2
5
FLY0
Justin Cook Monroe, LA
Monroe, LA
3
3
7
F22
Blane Perkins Oakdale, LA
Oakdale, LA
4
4
3
29
Dustin Turnage Lacamp, LA
Lacamp, LA
-1
5
6
4W
Tyler Willis Pitkin, LA
Pitkin, LA
1
6
1
81
Matt Deville Ruston, LA
Ruston, LA
-5
7
4
01
Lonnie Johnson Dry Prong, LA
Dry Prong, LA
-3
All transfer
Finish
Start
#
Competitor
Hometown
+/-
1
1
4B
Josh Baucom Shreveport, LA
Shreveport, LA
-
2
3
515
Trent Humphrey Haughton, LA
Haughton, LA
1
3
6
00
Clint McLaughlin Elmer, LA
Elmer, LA
3
4
2
R3
Rusty Neff Ruston, LA
Ruston, LA
-2
5
4
B60
Jared Cloud Elmer, La, LA
Elmer, La, LA
-1
6
5
88
Michael Torres Jr Hineston, LA
Hineston, LA
-1
All transfer
Street Stocks
Finish
Start
#
Competitor
Hometown
+/-
1
1
25
Kale Murphrey Tullos, LA
Tullos, LA
-
2
3
24C
Bobby Chandler Dry Prong, LA
Dry Prong, LA
1
3
2
444
Jimmy Byrd Keatchie, LA
Keatchie, LA
-1
4
4
40R
Chucky Robertson Jonesboro, LA
Jonesboro, LA
-
5
7
33W
Wesley Carter Georgetown, LA
Georgetown, LA
2
6
13
136
Alan Lindow Hallsville, TX
Hallsville, TX
7
7
6
ZR8
Zoie Whittington Ruston, LA
Ruston, LA
-1
8 DNF
12
17
Dustin Trim West Monroe, LA
West Monroe, LA
4
9 DNF
10
33
Sara Carter Georgetown, LA
Georgetown, LA
1
10 DNF
14
B8
Matthew Crane West Monroe, LA
West Monroe, LA
4
11 DNF
5
C55
Cadden Price Sicily Island, LA
Sicily Island, LA
-6
12 DNF
8
X3
Bubba Gowan Monroe, LA
Monroe, LA
-4
13 DNF
11
20R
Rusty Fish Oakdale, LA
Oakdale, LA
-2
DNS
9
49F
Brady Fortenberry Eros, LA
Eros, LA
-
DNS
15
21W
James Woodall Ringgold, LA
Ringgold, LA
-
Finish
Start
#
Competitor
Hometown
+/-
1
1
25
Kale Murphrey Tullos, LA
Tullos, LA
-
2
7
24C
Bobby Chandler Dry Prong, LA
Dry Prong, LA
5
3
5
C55
Cadden Price Sicily Island, LA
Sicily Island, LA
2
4
4
33W
Wesley Carter Georgetown, LA
Georgetown, LA
-
5
2
49F
Brady Fortenberry Eros, LA
Eros, LA
-3
6
6
20R
Rusty Fish Oakdale, LA
Oakdale, LA
-
7
8
136
Alan Lindow Hallsville, TX
Hallsville, TX
1
8 DNF
3
21W
James Woodall Ringgold, LA
Ringgold, LA
-5
All transfer
Finish
Start
#
Competitor
Hometown
+/-
1
4
444
Jimmy Byrd Keatchie, LA
Keatchie, LA
3
2
1
40R
Chucky Robertson Jonesboro, LA
Jonesboro, LA
-1
3
6
ZR8
Zoie Whittington Ruston, LA
Ruston, LA
3
4
2
X3
Bubba Gowan Monroe, LA
Monroe, LA
-2
5
7
33
Sara Carter Georgetown, LA
Georgetown, LA
2
6 DNF
5
17
Dustin Trim West Monroe, LA
West Monroe, LA
-1
7 DNF
3
B8
Matthew Crane West Monroe, LA
West Monroe, LA
-4
All transfer
CRUSA Dirt Late Models
Finish
Start
#
Competitor
Hometown
+/-
1
1
78
Wyatt Wilkerson Bell City, LA
Bell City, LA
-
2
3
14
Darin Patrick West Monroe, LA
West Monroe, LA
1
3
7
91B
Jonathan Babin Pineville, LA
Pineville, LA
4
4
10
28C
Colton Guin
6
5
8
125
Mark Underwood Jr Ruston, LA
Ruston, LA
3
6
2
54G
Garrett Gibson Haughton, LA
Haughton, LA
-4
7
4
1M
Waylon Morris Benville, LA
Benville, LA
-3
8
19
17
Austin Storm
11
9
9
10M
Talan Willis Elizabeth, LA
Elizabeth, LA
-
10
12
8
Tyler Owens Calhoun, LA
Calhoun, LA
2
11
13
6
Peyton Spear Monroe, LA
Monroe, LA
2
12
15
25
Mikey Kile West Lake, LA
West Lake, LA
3
13
18
1T
Tony Lindsey Keithville, LA
Keithville, LA
5
14
20
1
Payton Brown Calhoun, LA
Calhoun, LA
6
15
23
V8
Dalton Patrick West Monroe, LA
West Monroe, LA
8
16
16
7S
Brent Stewart Doyline, LA
Doyline, LA
-
17
22
B89
Dakota Smith Tullos, LA
Tullos, LA
5
18
21
56
Ray Goodman Bastrop, LA
Bastrop, LA
3
19
6
00S
James Shirley West Monroe, LA
West Monroe, LA
-13
20 DNF
11
3
Seth Traweek West Monroe, LA
West Monroe, LA
-9
21 DNF
5
6X
Rob Litton Alexandria, LA
Alexandria, LA
-16
22 DNF
14
15
Carlton Traweek West Monroe, LA
West Monroe, LA
-8
23 DNF
17
5Y
Robert Young Haughton, LA
Haughton, LA
-6
DNS
24
9X
Bubba Mullins West Monroe, LA
West Monroe, LA
-
Finish
Start
#
Competitor
Hometown
+/-
1
1
78
Wyatt Wilkerson Bell City, LA
Bell City, LA
-
2
3
1M
Waylon Morris Benville, LA
Benville, LA
1
3
5
91B
Jonathan Babin Pineville, LA
Pineville, LA
2
4
4
28C
Colton Guin
-
5
7
6
Peyton Spear Monroe, LA
Monroe, LA
2
6
8
7S
Brent Stewart Doyline, LA
Doyline, LA
2
7 DNF
2
17
Austin Storm
-5
8 DNF
6
B89
Dakota Smith Tullos, LA
Tullos, LA
-2
All transfer
Finish
Start
#
Competitor
Hometown
+/-
1
1
54G
Garrett Gibson Haughton, LA
Haughton, LA
-
2
3
6X
Rob Litton Alexandria, LA
Alexandria, LA
1
3
2
125
Mark Underwood Jr Ruston, LA
Ruston, LA
-1
4
5
3
Seth Traweek West Monroe, LA
West Monroe, LA
1
5
7
15
Carlton Traweek West Monroe, LA
West Monroe, LA
2
6
8
5Y
Robert Young Haughton, LA
Haughton, LA
2
7 DNF
4
1
Payton Brown Calhoun, LA
Calhoun, LA
-3
8 DNF
6
V8
Dalton Patrick West Monroe, LA
West Monroe, LA
-2
All transfer
Finish
Start
#
Competitor
Hometown
+/-
1
1
14
Darin Patrick West Monroe, LA
West Monroe, LA
-
2
4
00S
James Shirley West Monroe, LA
West Monroe, LA
2
3
3
10M
Talan Willis Elizabeth, LA
Elizabeth, LA
-
4
5
8
Tyler Owens Calhoun, LA
Calhoun, LA
1
5
6
25
Mikey Kile West Lake, LA
West Lake, LA
1
6
8
1T
Tony Lindsey Keithville, LA
Keithville, LA
2
7
7
56
Ray Goodman Bastrop, LA
Bastrop, LA
-
DQ
2
9X
Bubba Mullins West Monroe, LA
West Monroe, LA
-
All transfer
Finish
Start
#
Competitor
Hometown
Time
1
12
78
Wyatt Wilkerson Bell City, LA
Bell City, LA
2
19
54G
Garrett Gibson Haughton, LA
Haughton, LA
3
21
14
Darin Patrick West Monroe, LA
West Monroe, LA
4
16
17
Austin Storm
5
9
125
Mark Underwood Jr Ruston, LA
Ruston, LA
6
7
9X
Bubba Mullins West Monroe, LA
West Monroe, LA
7
1
1M
Waylon Morris Benville, LA
Benville, LA
8
23
6X
Rob Litton Alexandria, LA
Alexandria, LA
9
20
10M
Talan Willis Elizabeth, LA
Elizabeth, LA
10
3
28C
Colton Guin
11
11
1
Payton Brown Calhoun, LA
Calhoun, LA
12
15
00S
James Shirley West Monroe, LA
West Monroe, LA
13
5
91B
Jonathan Babin Pineville, LA
Pineville, LA
14
22
3
Seth Traweek West Monroe, LA
West Monroe, LA
15
2
8
Tyler Owens Calhoun, LA
Calhoun, LA
16
6
B89
Dakota Smith Tullos, LA
Tullos, LA
17
13
V8
Dalton Patrick West Monroe, LA
West Monroe, LA
18
8
25
Mikey Kile West Lake, LA
West Lake, LA
19
14
6
Peyton Spear Monroe, LA
Monroe, LA
20
10
15
Carlton Traweek West Monroe, LA
West Monroe, LA
21
4
56
Ray Goodman Bastrop, LA
Bastrop, LA
22
24
7S
Brent Stewart Doyline, LA
Doyline, LA
23
18
5Y
Robert Young Haughton, LA
Haughton, LA
24
17
1T
Tony Lindsey Keithville, LA
Keithville, LA
USRA Limited Mods
Finish
Start
#
Competitor
Hometown
+/-
1
2
A1
Conner Williams Sibley, LA
Sibley, LA
1
2
3
K9
John Parker Jr Dry Prong, LA
Dry Prong, LA
1
3
16
R3
Rusty Neff Ruston, LA
Ruston, LA
13
4
15
21
Jake Haddox Choudrant, LA
Choudrant, LA
11
5
19
22
Michael Stafford Glenmora, LA
Glenmora, LA
14
6
8
121
Jared Graves Deridder, LA
Deridder, LA
2
7
25
R18
Ronnie King Ruston, LA
Ruston, LA
18
8
21
28M
Mikey Merrell Jr. Dry Prong, LA
Dry Prong, LA
13
9 DNF
7
91
Ronny Freeland Bastrop, LA
Bastrop, LA
-2
10 DNF
1
955
Talan Willis Elizabeth, LA
Elizabeth, LA
-9
11 DNF
12
5X
Andrew Cox West Monroe, LA
West Monroe, LA
1
12 DNF
5
E8
Ethan Bailes Elizabeth, LA
Elizabeth, LA
-7
13 DNF
10
7S
Braden Stewart Collinston, LA
Collinston, LA
-3
14 DNF
4
21C
Colton Davis Prairieville, LA
Prairieville, LA
-10
15 DNF
20
18K
Kendall Puckett Dubach, LA
Dubach, LA
5
16 DNF
17
20M
Ryan Maddox Grant, LA
Grant, LA
1
17 DNF
18
21B
Brian Bell Castor, LA
Castor, LA
1
18 DNF
11
14JR
Michael King Jr El Dorado, AR
El Dorado, AR
-7
19 DNF
13
7CC
Colby Williams Sibley, LA
Sibley, LA
-6
20 DNF
9
12
Will Owens Calhoun, LA
Calhoun, LA
-11
21 DNF
6
39
Trevor Strother Oakdale, LA
Oakdale, LA
-15
DNS
22
FLYO
Justin Cook Sterlington, LA
Sterlington, LA
-
DNS
23
6S
Dylan Merrell Dry Prong, LA
Dry Prong, LA
-
DNS
24
69
Charles Nugent Dry Prong, LA
Dry Prong, LA
-
DNS
14
8
PATRICK CRAWFORD Calhoun, LA
Calhoun, LA
-
Finish
Start
#
Competitor
Hometown
+/-
1
1
955
Talan Willis Elizabeth, LA
Elizabeth, LA
-
2
6
21C
Colton Davis Prairieville, LA
Prairieville, LA
4
3
2
91
Ronny Freeland Bastrop, LA
Bastrop, LA
-1
4
4
7S
Braden Stewart Collinston, LA
Collinston, LA
-
5
8
7CC
Colby Williams Sibley, LA
Sibley, LA
3
6
5
R3
Rusty Neff Ruston, LA
Ruston, LA
-1
7
9
22
Michael Stafford Glenmora, LA
Glenmora, LA
2
8
7
FLYO
Justin Cook Sterlington, LA
Sterlington, LA
-1
9
3
R18
Ronnie King Ruston, LA
Ruston, LA
-6
All transfer
Finish
Start
#
Competitor
Hometown
+/-
1
1
A1
Conner Williams Sibley, LA
Sibley, LA
-
2
4
E8
Ethan Bailes Elizabeth, LA
Elizabeth, LA
2
3
3
121
Jared Graves Deridder, LA
Deridder, LA
-
4
7
14JR
Michael King Jr El Dorado, AR
El Dorado, AR
3
5
2
8
PATRICK CRAWFORD Calhoun, LA
Calhoun, LA
-3
6
8
20M
Ryan Maddox Grant, LA
Grant, LA
2
7 DNF
5
18K
Kendall Puckett Dubach, LA
Dubach, LA
-2
8 DNF
6
6S
Dylan Merrell Dry Prong, LA
Dry Prong, LA
-2
All transfer
Finish
Start
#
Competitor
Hometown
+/-
1
6
K9
John Parker Jr Dry Prong, LA
Dry Prong, LA
5
2
3
39
Trevor Strother Oakdale, LA
Oakdale, LA
1
3
5
12
Will Owens Calhoun, LA
Calhoun, LA
2
4
2
5X
Andrew Cox West Monroe, LA
West Monroe, LA
-2
5
8
21
Jake Haddox Choudrant, LA
Choudrant, LA
3
6
7
21B
Brian Bell Castor, LA
Castor, LA
1
7
1
28M
Mikey Merrell Jr. Dry Prong, LA
Dry Prong, LA
-6
DNS
4
69
Charles Nugent Dry Prong, LA
Dry Prong, LA
-
All transfer
USRA Factory Stocks
Finish
Start
#
Competitor
Hometown
+/-
1
3
J27
Scotty Case Marshall, TX
Marshall, TX
2
2
1
B1
Kyle Cummings Shreveport, LA
Shreveport, LA
-1
3
4
9
John Parker Jr Dry Prong, LA
Dry Prong, LA
1
4
6
B153
Hayden Brown Minden, LA
Minden, LA
2
5
13
00
David Vosbury Keithville, LA
Keithville, LA
8
6
9
1
Blayne Nolen Pitkin, LA
Pitkin, LA
3
7
10
L88
Logan Gordon W Monroe, LA
W Monroe, LA
3
8
12
22M
Taten Perkins Oakdale, LA
Oakdale, LA
4
9
15
0
Mike Lavespere Verda, LA
Verda, LA
6
10
11
125
Mark Underwood Jr Ruston, LA
Ruston, LA
1
11 DNF
7
10X
Damon Fee Glenmora La, LA
Glenmora La, LA
-4
12 DNF
5
49
Colton Mathis Winnfield, LA
Winnfield, LA
-7
13 DNF
17
C28
Ben Merchant Ruston, LA
Ruston, LA
4
14 DNF
14
L1
Ben Leedy Jonesboro, LA
Jonesboro, LA
-
15 DNF
19
BB1
Braxton Beckham Quitman, LA
Quitman, LA
4
16 DNF
18
D27
Devon Kruithof Haughton, LA
Haughton, LA
2
17 DNF
16
5T
Dewayne Turner Jonesboro, LA
Jonesboro, LA
-1
DNS
8
4
Mickey Steele Ball, LA
Ball, LA
-
DQ
2
100+
Ross Cook Florine, LA
Florine, LA
-
Finish
Start
#
Competitor
Hometown
+/-
1
4
B1
Kyle Cummings Shreveport, LA
Shreveport, LA
3
2
2
9
John Parker Jr Dry Prong, LA
Dry Prong, LA
-
3
6
10X
Damon Fee Glenmora La, LA
Glenmora La, LA
3
4
1
L88
Logan Gordon W Monroe, LA
W Monroe, LA
-3
5 DNF
3
00
David Vosbury Keithville, LA
Keithville, LA
-2
6 DNF
5
5T
Dewayne Turner Jonesboro, LA
Jonesboro, LA
-1
7 DNF
7
BB1
Braxton Beckham Quitman, LA
Quitman, LA
-
All transfer
Finish
Start
#
Competitor
Hometown
+/-
1
4
100+
Ross Cook Florine, LA
Florine, LA
3
2
2
49
Colton Mathis Winnfield, LA
Winnfield, LA
-
3 DNF
3
4
Mickey Steele Ball, LA
Ball, LA
-
4 DNF
6
125
Mark Underwood Jr Ruston, LA
Ruston, LA
2
5 DNF
1
L1
Ben Leedy Jonesboro, LA
Jonesboro, LA
-4
6 DNF
5
C28
Ben Merchant Ruston, LA
Ruston, LA
-1
All transfer
Finish
Start
#
Competitor
Hometown
+/-
1
2
J27
Scotty Case Marshall, TX
Marshall, TX
1
2
4
B153
Hayden Brown Minden, LA
Minden, LA
2
3
1
1
Blayne Nolen Pitkin, LA
Pitkin, LA
-2
4
3
22M
Taten Perkins Oakdale, LA
Oakdale, LA
-1
5
5
0
Mike Lavespere Verda, LA
Verda, LA
-
6
6
D27
Devon Kruithof Haughton, LA
Haughton, LA
-
All transfer
USRA Tuners
Finish
Start
#
Competitor
Hometown
+/-
1
2
K1
Kobe Kulp Eros, LA
Eros, LA
1
2
1
18S
Billy Smith Rocky Branch, LA
Rocky Branch, LA
-1
3
4
96
Wayne Anderson Jonesboro, LA
Jonesboro, LA
1
4
12
J20
Justin Frith
8
5
5
C4
Ava Cannady Hodge, LA
Hodge, LA
-
6
7
36J
Josie Irvin Chatham, LA
Chatham, LA
1
7
6
H95
Dee Harris Choudrant, LA
Choudrant, LA
-1
8
10
1M
Austin King Athens, LA
Athens, LA
2
9
11
257JR
Junior Jones Oak Grove, LA
Oak Grove, LA
2
10 DNF
3
1J
Jackson Mourad Haughton, LA
Haughton, LA
-7
11 DNF
8
91
ryan raney Vicksburg, MS
Vicksburg, MS
-3
DNS
9
19S
Billy Smith Sr. Farmerville, LA
Farmerville, LA
-
Finish
Start
#
Competitor
Hometown
+/-
1
4
18S
Billy Smith Rocky Branch, LA
Rocky Branch, LA
3
2
2
1J
Jackson Mourad Haughton, LA
Haughton, LA
-
3
5
C4
Ava Cannady Hodge, LA
Hodge, LA
2
4
3
36J
Josie Irvin Chatham, LA
Chatham, LA
-1
5 DNF
1
19S
Billy Smith Sr. Farmerville, LA
Farmerville, LA
-4
6 DNF
6
257JR
Junior Jones Oak Grove, LA
Oak Grove, LA
-
All transfer
Finish
Start
#
Competitor
Hometown
+/-
1
5
K1
Kobe Kulp Eros, LA
Eros, LA
4
2
3
96
Wayne Anderson Jonesboro, LA
Jonesboro, LA
1
3
1
H95
Dee Harris Choudrant, LA
Choudrant, LA
-2
4
4
91
ryan raney Vicksburg, MS
Vicksburg, MS
-
5
2
1M
Austin King Athens, LA
Athens, LA
-3
6 DNF
6
J20
Justin Frith
-
All transfer