Three USRA divisions spice up Saturday nights at Super Bee Speedway.

Matt Sheppard pocketed $20,000 for his Mods in the Marsh triumph.

Stewart Friesen kicked off the STSS weekend at Super Bee Speedway with a win.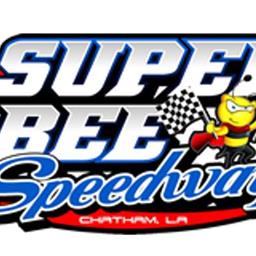 9/1/2023 - Super Bee Speedway
Chatham, LA
Factory Stock Showdown & Comp Cams
Pit Passes $40 ages 12 & up, $20 ages 6-11, Free ages 5 & under.
General Admission $20 ages 12 & up, $10 ages 6-11, Free ages 5 & under.
$3,000 to win Factory Stocks
$100 entry fee.
$200 to start.
Friday
Comp Cams
Factory Time in
Factory Heats
ProMod
Sportster
Saturday
Factory B's & feature
Limited
Crate
Street
Tuner
Running Order will be updated at a later date.
Sportsters

6 entries

ProMods

9 entries

USRA Factory Stocks

20 entries

Comp Cams Super Late Models

21 entries

COMP Cams Super Dirt Series (CCSDS)
Full Event Information on MyRacePass
Sportsters
Finish
Start
#
Competitor
Hometown
+/-
1
1
194
John McCune Stonewall, LA
Stonewall, LA
-
2
2
FLY0JR
Jaxon Cook Monroe, LA
Monroe, LA
-
3
3
X
Brittany Graham Shreveport, LA
Shreveport, LA
-
4
4
B1
Benton Ball Marion, LA
Marion, LA
-
DNS
5
K2
Kaylee Hartegan Choudrant, LA
Choudrant, LA
-
DNS
6
G97
Amy Cox Shongaloo, LA
Shongaloo, LA
-
Finish
Start
#
Competitor
Hometown
+/-
1
2
194
John McCune Stonewall, LA
Stonewall, LA
1
2
4
FLY0JR
Jaxon Cook Monroe, LA
Monroe, LA
2
3
5
X
Brittany Graham Shreveport, LA
Shreveport, LA
2
4
6
B1
Benton Ball Marion, LA
Marion, LA
2
5
3
K2
Kaylee Hartegan Choudrant, LA
Choudrant, LA
-2
6
1
G97
Amy Cox Shongaloo, LA
Shongaloo, LA
-5
All transfer
ProMods
Finish
Start
#
Competitor
Hometown
+/-
1
1
74
Dalton Snoddy Ville Platte, LA
Ville Platte, LA
-
2
5
FLY0
Justin Cook Monroe, LA
Monroe, LA
3
3
4
98
Jake Haddox Choudrant, LA
Choudrant, LA
1
4
9
10X
Jeremy Allen Simsboro, LA
Simsboro, LA
5
5
8
07
Matthew Driskill Ruston, LA
Ruston, LA
3
6
2
J316
Kason Potter Bastrop, LA
Bastrop, LA
-4
7
6
75
Dusty Wilhite
-1
8 DNF
3
B99
William Brooks Carthage, TX
Carthage, TX
-5
9 DNF
7
01
Jaden Collins Colfax, LA
Colfax, LA
-2
Finish
Start
#
Competitor
Hometown
+/-
1
2
74
Dalton Snoddy Ville Platte, LA
Ville Platte, LA
1
2
3
J316
Kason Potter Bastrop, LA
Bastrop, LA
1
3
1
B99
William Brooks Carthage, TX
Carthage, TX
-2
4
6
98
Jake Haddox Choudrant, LA
Choudrant, LA
2
5
8
FLY0
Justin Cook Monroe, LA
Monroe, LA
3
6
4
75
Dusty Wilhite
-2
7
5
01
Jaden Collins Colfax, LA
Colfax, LA
-2
8
7
07
Matthew Driskill Ruston, LA
Ruston, LA
-1
9
9
10X
Jeremy Allen Simsboro, LA
Simsboro, LA
-
All transfer
USRA Factory Stocks
Finish
Start
#
Competitor
Hometown
+/-
1
1
125
Mark Underwood Jr Ruston, LA
Ruston, LA
-
2
3
J27
Scotty Case Marshall, TX
Marshall, TX
1
3
4
9
John Parker Jr Dry Prong, LA
Dry Prong, LA
1
4
6
45
Brandon Martin Hardin, TX
Hardin, TX
2
5
5
4
Mickey Steele Ball, LA
Ball, LA
-
6
8
L88
Logan Gordon W Monroe, LA
W Monroe, LA
2
7
9
16R
thomas ramsey Grayson, LA
Grayson, LA
2
8 DNF
2
721
Matthew Lindsey Jonesboro, LA
Jonesboro, LA
-6
DNS
7
00
Richard Roberts
-
DNS
10
O
Hayden Beckham Quitman, LA
Quitman, LA
-
Finish
Start
#
Competitor
Hometown
+/-
1
2
8
Chris Sawyer Robeline, LA
Robeline, LA
1
2
5
37
Matthew Driskill Ruston, LA
Ruston, LA
3
3
4
12
David Smith Ruston, LA
Ruston, LA
1
4
3
X
Jeremy Allen Simsboro, LA
Simsboro, LA
-1
5
1
C28
Ben Merchant Ruston, LA
Ruston, LA
-4
6 DNF
8
B1
Braxton Beckham Quitman, LA
Quitman, LA
2
7 DNF
7
49
Colton Mathis Winnfield, LA
Winnfield, LA
-
8 DNF
10
77
Tyler Dubois Robeline, LA
Robeline, LA
2
9 DNF
6
00V
David Vosbury Keithville, LA
Keithville, LA
-3
10 DNF
9
5T
Dewayne Turner Jonesboro, LA
Jonesboro, LA
-1
Finish
Start
#
Competitor
Hometown
Time
1
18
125
Mark Underwood Jr Ruston, LA
Ruston, LA
2
9
C28
Ben Merchant Ruston, LA
Ruston, LA
3
14
721
Matthew Lindsey Jonesboro, LA
Jonesboro, LA
4
17
8
Chris Sawyer Robeline, LA
Robeline, LA
5
8
J27
Scotty Case Marshall, TX
Marshall, TX
6
2
X
Jeremy Allen Simsboro, LA
Simsboro, LA
7
13
9
John Parker Jr Dry Prong, LA
Dry Prong, LA
8
10
12
David Smith Ruston, LA
Ruston, LA
9
4
4
Mickey Steele Ball, LA
Ball, LA
10
19
37
Matthew Driskill Ruston, LA
Ruston, LA
11
20
45
Brandon Martin Hardin, TX
Hardin, TX
12
12
00V
David Vosbury Keithville, LA
Keithville, LA
13
7
00
Richard Roberts
14
5
49
Colton Mathis Winnfield, LA
Winnfield, LA
15
16
L88
Logan Gordon W Monroe, LA
W Monroe, LA
16
3
B1
Braxton Beckham Quitman, LA
Quitman, LA
17
11
16R
thomas ramsey Grayson, LA
Grayson, LA
18 DNF
15
5T
Dewayne Turner Jonesboro, LA
Jonesboro, LA
DNS
1
O
Hayden Beckham Quitman, LA
Quitman, LA
DNS
6
77
Tyler Dubois Robeline, LA
Robeline, LA
All transfer
Comp Cams Super Late Models
Finish
Start
#
Competitor
Hometown
+/-
1
1
21
Billy Moyer Jr Batesville, AR
Batesville, AR
-
2
4
5
Jon Mitchell Texarkana, TX
Texarkana, TX
2
3
10
19
Jamie Burford Keatchie, LA
Keatchie, LA
7
4
6
90R
Brian Rickman Columbus, MS
Columbus, MS
2
5
7
1
BJ Robinson Bossier City, LA
Bossier City, LA
2
6
5
3K
Tanner Kellick Mer Rouge, LA
Mer Rouge, LA
-1
7
12
R5
Hunter Rasdon Jonesboro, AR
Jonesboro, AR
5
8
16
17
Jarret Stuckey Shreveport, LA
Shreveport, LA
8
9
18
48
Cody Leonard Sinton, TX
Sinton, TX
9
10
15
B17
Brandon Ball Texarkana, TX
Texarkana, TX
5
11
11
5C
Brad Couch Bossier City, LA
Bossier City, LA
-
12
14
11
Jon Kirby Russellville, AR
Russellville, AR
2
13
13
USA128
Kylan Garner Neosho, MO
Neosho, MO
-
14
8
11A
Bubba Mullins West Monroe, LA
West Monroe, LA
-6
15
21
B89
Dakota Smith Tullos, LA
Tullos, LA
6
16
2
86B
Kyle Beard Trumann, AR
Trumann, AR
-14
17
9
125
Mark Underwood Jr Ruston, LA
Ruston, LA
-8
18
20
9
James Moore Edwards, MS
Edwards, MS
2
19
3
14M
Morgan Bagley Longview, TX
Longview, TX
-16
20
17
25
Mikey Kile West Lake, LA
West Lake, LA
-3
21
19
88
Chance Mann Newport, AR
Newport, AR
-2
8 Laps
Heat 1TOMMY SURRET TRUCKING
Finish
Start
#
Competitor
Hometown
+/-
1
1
21
Billy Moyer Jr Batesville, AR
Batesville, AR
-
2
2
5
Jon Mitchell Texarkana, TX
Texarkana, TX
-
3
3
1
BJ Robinson Bossier City, LA
Bossier City, LA
-
4
5
19
Jamie Burford Keatchie, LA
Keatchie, LA
1
5
4
USA128
Kylan Garner Neosho, MO
Neosho, MO
-1
6
6
17
Jarret Stuckey Shreveport, LA
Shreveport, LA
-
7
7
88
Chance Mann Newport, AR
Newport, AR
-
All transfer
8 Laps
Heat 2Delta Thunder Motorsports
Finish
Start
#
Competitor
Hometown
+/-
1
2
86B
Kyle Beard Trumann, AR
Trumann, AR
1
2
3
3K
Tanner Kellick Mer Rouge, LA
Mer Rouge, LA
1
3
1
11A
Bubba Mullins West Monroe, LA
West Monroe, LA
-2
4
4
5C
Brad Couch Bossier City, LA
Bossier City, LA
-
5
5
11
Jon Kirby Russellville, AR
Russellville, AR
-
6
7
25
Mikey Kile West Lake, LA
West Lake, LA
1
7
6
9
James Moore Edwards, MS
Edwards, MS
-1
All transfer
Finish
Start
#
Competitor
Hometown
+/-
1
1
14M
Morgan Bagley Longview, TX
Longview, TX
-
2
5
90R
Brian Rickman Columbus, MS
Columbus, MS
3
3
2
125
Mark Underwood Jr Ruston, LA
Ruston, LA
-1
4
4
R5
Hunter Rasdon Jonesboro, AR
Jonesboro, AR
-
5
3
B17
Brandon Ball Texarkana, TX
Texarkana, TX
-2
6
7
48
Cody Leonard Sinton, TX
Sinton, TX
1
7
6
B89
Dakota Smith Tullos, LA
Tullos, LA
-1
All transfer
Qualifying 1MARK MARTIN AUTOMOTIVE
Finish
Start
#
Competitor
Hometown
Time
1
2
21
Billy Moyer Jr Batesville, AR
Batesville, AR
15.211
2
11
11A
Bubba Mullins West Monroe, LA
West Monroe, LA
15.566
3
6
14M
Morgan Bagley Longview, TX
Longview, TX
15.590
4
21
5
Jon Mitchell Texarkana, TX
Texarkana, TX
15.671
5
14
86B
Kyle Beard Trumann, AR
Trumann, AR
15.693
6
19
125
Mark Underwood Jr Ruston, LA
Ruston, LA
15.745
7
20
1
BJ Robinson Bossier City, LA
Bossier City, LA
15.779
8
15
3K
Tanner Kellick Mer Rouge, LA
Mer Rouge, LA
15.812
9
4
B17
Brandon Ball Texarkana, TX
Texarkana, TX
15.823
10
18
USA128
Kylan Garner Neosho, MO
Neosho, MO
15.865
11
16
5C
Brad Couch Bossier City, LA
Bossier City, LA
15.880
12
17
R5
Hunter Rasdon Jonesboro, AR
Jonesboro, AR
15.946
13
13
19
Jamie Burford Keatchie, LA
Keatchie, LA
15.947
14
7
11
Jon Kirby Russellville, AR
Russellville, AR
15.972
15
12
90R
Brian Rickman Columbus, MS
Columbus, MS
15.992
16
9
17
Jarret Stuckey Shreveport, LA
Shreveport, LA
16.050
17
8
9
James Moore Edwards, MS
Edwards, MS
16.247
18
10
B89
Dakota Smith Tullos, LA
Tullos, LA
16.283
19
3
88
Chance Mann Newport, AR
Newport, AR
16.324
DQ
1
25
Mikey Kile West Lake, LA
West Lake, LA
16.324
DQ
5
48
Cody Leonard Sinton, TX
Sinton, TX
16.324
Finish
Start
#
Competitor
Hometown
Time
1
2
21
Billy Moyer Jr Batesville, AR
Batesville, AR
15.139
2
14
86B
Kyle Beard Trumann, AR
Trumann, AR
15.376
3
15
3K
Tanner Kellick Mer Rouge, LA
Mer Rouge, LA
15.387
4
21
5
Jon Mitchell Texarkana, TX
Texarkana, TX
15.434
5
1
25
Mikey Kile West Lake, LA
West Lake, LA
15.447
6
12
90R
Brian Rickman Columbus, MS
Columbus, MS
15.692
7
11
11A
Bubba Mullins West Monroe, LA
West Monroe, LA
15.764
8
13
19
Jamie Burford Keatchie, LA
Keatchie, LA
15.796
9
20
1
BJ Robinson Bossier City, LA
Bossier City, LA
15.821
10
6
14M
Morgan Bagley Longview, TX
Longview, TX
15.881
11
19
125
Mark Underwood Jr Ruston, LA
Ruston, LA
15.886
12
5
48
Cody Leonard Sinton, TX
Sinton, TX
15.910
13
17
R5
Hunter Rasdon Jonesboro, AR
Jonesboro, AR
16.061
14
3
88
Chance Mann Newport, AR
Newport, AR
16.266
15
9
17
Jarret Stuckey Shreveport, LA
Shreveport, LA
16.274
16
10
B89
Dakota Smith Tullos, LA
Tullos, LA
16.329
17
16
5C
Brad Couch Bossier City, LA
Bossier City, LA
16.470
18
18
USA128
Kylan Garner Neosho, MO
Neosho, MO
16.518
19
7
11
Jon Kirby Russellville, AR
Russellville, AR
16.793
20
8
9
James Moore Edwards, MS
Edwards, MS
17.065
DNS
4
B17
Brandon Ball Texarkana, TX
Texarkana, TX